Golf Croquet
The East Anglian Golf Croquet league is divided into four areas, the Northern, Eastern, Central and Western areas, and the clubs in each area played in an all-play-all block over the course of the season. There are four players per team who play four timed handicap singles against their opposite numbers, plus two handicap doubles – a total of 18 games per match. The results of the matches in each block can be found by following the corresponding links. The four area winners then proceed to a knock-out stage for the semi-finals and finals to determine the overall winner, to be played at Bury St. Edmunds on Tuesday 6th September and Sunday 11th September respectively.
The fee for taking part in the League this year is £10 per club. Cheques (made payable to the EACF) should be sent to Chris Howell by 14th May.
Chris Howelll
Click on images for an enlargement

GC League play-off results
by year:

Area
2011 Area Winners:
Semi-finalists
2011
Finalists
2011
Winners

The EACF Golf Croquet
League Trophy
Hunstanton 'Blue'
Leighton Linslade 'B'
15-3
Enfield (E)
10-8
Leighton Linslade 'B'
Bury St. Edmunds (E)
Enfield (E)
13-3
Enfield (E)
See also:
GC League play-off results by year:
Previous GC league winners - summary
---
The Semi-Finals
Leighton Linslade 'B',
L-R: Jean Ball, Malcolm Kirby,
Pauline Lefrere, Tony Wells
The four area division winners met at Newport Croquet Club on 6th September for semi-finals between Leighton-Linslade 'B' against Hunstanton 'Blue' in the morning; and Bury St. Edmunds (E) against Enfield (E) after lunch. The original venue was due to be Bury St. Edmunds, however as a team from Bury were playing, the neutral ground of Newport became the venue. The day dawned very windy and very wet, apart from a dry interlude in the early afternoon that soon disappeared.
In the first semi-final the first round of singles proved very successful for LL with wins for all four players. Not daunted at all by the rain and blustery wind, their impressive performance continued in the next two rounds with three wins and four wins respectively. So after just three rounds the score was 11 wins to 2, an unbeatable result. The final singles round was another 3-1 win for LL, however the doubles were halved with Hunstanton, so a fine 15-3 result for Leighton-Linslade.
In the second semi-final the first round between Enfield (E) was also a 4-0 lead against Bury St. Edmunds (E), despite closely contested games. Round Two was played in monsoon conditions and at the short break Enfield were at 6-2. The third round saw Enfield take three more wins, and with only one more required they surpassed themselves with another 4-0. With the score at 13-3 and a place in the final already achieved it was decided to forego the doubles matches so everyone could dry out!
The Final
Leighton-Linslade 'B' and Enfield (E) re-assembled, this time at Bury St. Edmunds, for the final on Sunday 11th September. Despite a pretty poor forecast the day was very pleasant with blue skies and a few clouds for much of the day – the wind was a bit blustery – and there was none of the wet stuff until the players were leaving for home!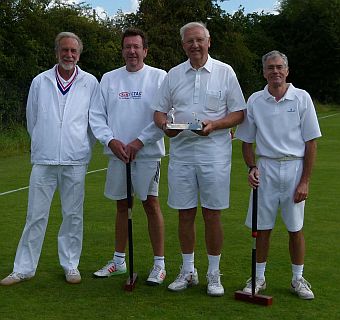 Enfield (E), L-R: David Frost,

Brian Havill, Ken Pickett, Tony Elliott

After a warm welcome from League Organiser Chris Howell, ably supported by Katie Fairbairn, and Eileen Beattie looking after the refreshments, plus Leighton-Linslade's David Ball updating the handicap cards, the first two rounds got under way.

These were a very good start for the Leighton-Linslade team of Tony Wells (Captain), Jean Ball, Malcolm Kirby and Pauline Lefrere as they stormed off to a 3-1 lead from round one, followed by an even more impressive 4-0 round two result, so with less than half the 18 games played, the score was 7-1. Leighton-Linslade just needed three more wins from the remaining ten matches for victory. It looked like it was all over with less than half the matches played!

However the Enfield team of Ken Pickett (Captain), Tony Elliott, David Frost and Brian Havill are made of stern stuff, and they fought their way back into the game with a clean sweep of four wins in round three, and followed this up with a 3-1 victory in the last singles round – so with just the two doubles to play, the score was 8-8, a superb comeback.

With this surge in their favour, would there be any holding them? There was no time limit for the doubles games, that were both hard fought – however Enfield (E) held their nerve and took both doubles, so the dreaded golden hoop was avoided, and they gained a fine 10-8 victory.

All games were played in a friendly and pleasant manner with very few, if indeed any requirements to call on a referee, and the standard of play was of excellent quality and enjoyable to watch. Well done to the finalists and to all teams in the entire competition. This league has developed well since its inauguration back in 2004 and continues to prosper under Chris Howell's leadership. If your club is not as yet involved, why not give it a try? It is a fine way of introducing your members to friendly and exciting competition – travelling is minimal within the Area Divisions, you meet and make new friends, and as long as your handicap is 10 or under you can take part.

Report by John Cundell
GOLF CROQUET LEAGUE RULES – 2011
Each team shall consist of FOUR players, not necessarily the same players each match.
Once a match has started no team player may be substituted.
No player may play for more than one club in a season.
13 point games will be played with a 40 min. timed limit. If the game is drawn when time is called play one more hoop to determine game winner. Bisques may not be used for this extra hoop.
The day shall consist of 16 single games and 2 double games. Each team member will play 4 single games and 1 double game. Tournament total 18 points.
If a match is drawn at the end of all games, an extra hoop will be played to determine the overall winner. Captains will decide who plays (singles or doubles pairings). Once selected the players toss to decide who goes first. Start play from corner 1 and play to and through hoop 3.
Each player should have a handicap within the range of 0 to 10. The total aggregate of the team handicap must not be lower than 24. (Note: New Golf Croquet handicaps in the range 0 to 12 were adopted by the CA for all UK players and implemented with effect from March 2008 in order to align UK handicaps with world standards. New handicaps for all UK players were obtained by adding 4 to the old handicaps. This Rule refers to the new handicaps.)
Handicap cards should be submitted and filled in by the host club.
Bisques will be used. No bisques used after time.
If a team cancels unilaterally less than 3 clear days before a scheduled match that team forfeits its points and the other team will be awarded the match and half the possible games.
Any number or size of lawn may be used; adjust the format accordingly. Spread the play if the quality of lawn varies.
Results are to be notified by each team manager to the League Manager as soon as possible after the match.
In the event of a dispute the League Manager's decision shall be final.
Chris Howell
League Manager
tel: 01284 787728