Golf Croquet
The East Anglian Golf Croquet league is divided into four areas, the Northern, Eastern, Central and Western areas, and the clubs in each area played in an all-play-all block over the course of the season. The results of the matches in each block can be found by following the corresponding links. The four area winners then proceeded to a knock-out stage for the semi-finals and finals to determine the overall winner.
SEMI FINALS
Saturday morning 22nd September 2007 saw the EACF Golf League Semi-Final held on the lawns of Newport Croquet Club between Downham Market (winners of the Northern area) and Enfield (winners of the Eastern area). A perfect morning for weather with each team, consisting of four players, playing a total of 18 games - 16 singles and 2 doubles matches. The day culminated in a win for Enfield 14 points to 4.
Team Players were:

Downham Market

Enfield

Martin Ambrose
Linda Ambrose
Charlie Blyth
Richard Clifford
Ken Pickett
Michael Ruggins
Wendy Spencer-Smith
Alan Foott
The afternoon semi-final, arranged between the Western area winners, Watford, and Central area winners, Sudbury, was not played due to Sudbury withdrawing from the competition at the last moment leaving Watford to become the winner.
FINALS
Sunday's Final was played between Watford and Enfield. The format was as for the semi-final. Watford defeated Enfield 10 points to 8. Again the weather was with us.
Team Players were:

Watford

Enfield

Janet Lewis
John Walker
Helen Walker
Norah Wesley
Ken Pickett
Michael Ruggins
Wendy Spencer-Smith
Alan Foott
The winning team was presented with the EACF Golf League Trophy by the Vice Chairman of Newport CC and organiser of the 2007 Golf Croquet League, Tony Marks.
Tournament Referees both days were David Manley and John Sibson. Manager for the weekend was Tony Marks.
Report by Tony Marks
Click on images for an enlargement

GC League play-off results
by year:

Area
2007 Area Winners:
Semi-finalists
2007
Finalists
2007
Winners

The EACF Golf Croquet
League Trophy
Downham Market Enfield
Sudbury
Watford
Enfield
14-4
Watford
10-8
Watford
w/o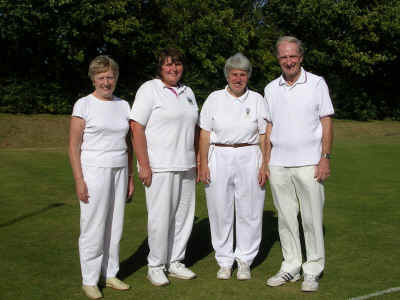 The winning Watford team, left to right:
Helen Walker, Janet Lewis, Norah Wesley, John Walker

Click on the image to see an enlargement.
---
See also:
GC League play-off results by year:
Previous GC league winners - summary
---
GOLF CROQUET LEAGUE RULES – 2007
EACF Golf Croquet League match fixtures and results:
HOME AND AWAY MATCHES CAN BE CHANGED BY MUTUAL AGREEMENT
A representative from both teams to telephone or e-mail the results to Tony Marks as soon as possible after each match.
tel: 01799 502316 e-mail: Tony Marks
| | |
| --- | --- |
| 1. | Each team shall consist of FOUR players, not necessarily the same players each match. |
| 2. | Once a match has started no team player may be substituted. |
| 3. | No player may play for more than one club in a season. |
| 4. | 13 point games will be played with a 30 min. timed limit. If the game is drawn when time is called play one more hoop to determine game winner. Bisques may not be used for this extra hoop. |
| 5. | The day shall consist of 16 single games and 2 double games. Each team member will play 4 single games and 1 double game. Tournament total 18 points. |
| 6. | If the match is drawn at the end of all games, ie. 9 games each, a shoot out at the peg will be used to determine the overall match winner. |
| 7. | Each player should have a handicap within the range of -3 to 6. The total aggregate of the team handicap must not be lower than 10. |
| 8. | The host organiser of the day must make sure all handicap cards are submitted to him/her before play starts. These are to be filled in by the host or host club handicapper. Each club should preferably appoint an active handicapper to assess its players so that each has a handicap card. |
| 9. | Bisques will be used. No bisques used after time. |
| 10. | If a team cancels unilaterally less than 3 clear days before a scheduled match that team forfeits its points and the other team will be awarded the match and half the possible games. |
| 11. | Any number or size of lawn may be used; adjust the format accordingly. Spread the play if the quality of lawn varies. |
| 12. | Results are to be notified by each team manager to the League Secretary as soon as possible after the match. |
A tournament entry fee of £6 PER CLUB, cheques payable to EACF, shall be sent to:
Tony Marks
26 Farmadine
Saffron Walden
Essex
CB11 3HP

NOT LATER THAN 1st MAY 2007