Member clubs of the East Anglian Croquet Federation can arrange to post their own club news items here by sending them to the webmaster.
In addition, club match results can be found in the Tournaments section.
Click on photos for an enlargement.
---
---
| | | |
| --- | --- | --- |
| 7 December 2007 | Wrest Park | Newsletter (PDF, 537 kb) John Bevington |
---
| | | |
| --- | --- | --- |
| 14 October 2007 | Wrest Park | Newsletter (PDF, 1019 kb) John Bevington |
---
| | | |
| --- | --- | --- |
| 9 October 2007 | Leighton Linslade | Newsletter (PDF, 1,192 kb) John Cundell |
---
Please note that as of 2009 this information is now out of date, and these parking arrangements no longer apply. They now vary according to the event and the day of the week. Visitors should therefore contact the club for up-to-date advice.
Parking
All players visiting Wrest Park should now park on the grass alongside the row of trees on the other side of the drive from the mansion, as shown in the plan opposite.
Getting in
You must report to reception at the mansion if arriving after 8am on weekdays (office on the left) or 10am at weekends (office on the right). You should then go through the grey door in the gate by the clock tower and follow the route indicated by the dotted line on the map. The route will require you to use two combination padlocks. The number of the combination can be obtained from the Secretary.
IT IS MOST IMPORTANT THAT YOU LOCK THE GATES AND RESCRAMBLE THE PADLOCKS EACH TIME YOU USE THEM.
This cannot be emphasised too strongly. People are still leaving the gates unlocked, perhaps assuming that someone else is following. If they are, then wait for them.
John Bevington
---
| | | |
| --- | --- | --- |
| 5 September 2007 | Wrest Park | Newsletter (PDF, 502 kb) John Bevington |
---
25-28 Aug 2007
Hunstanton
108th Annual Tournament

Sunny Hunny triumphs again
After a week of pouring rain the Hunstanton skies cleared for the bank holiday weekend enabling the 108th Tournament, which had attracted a full entry, to be played under a rather belated summer sun. The lawns, due to the hard work of the ground staff, were in excellent condition and played well at an even pace. The play was organised into 4 American blocks and 1 Handicap Egyptian, which was ably organised by the Tournament Manager Martin Kolbuszewski.
All the blocks which had been seeded by handicap were close and not decided until the final day's play. In block A, George Noble was in outstanding form winning 6/7 games, seeing off his nearest rivals Nick Harris and Gary Bennett. In block B George Woolhouse, likewise playing well, also won his block by 6/7 games. Block C gave the Manager and the Referee of Tournament (Nick Harris) a bit of a headache due to one of the players having to withdraw after 2 days due to unforeseen family circumstances. However, after much deliberation and discounting of games played, Catherine Storey was eventually declared the winner. (Note: Sue Stenhouse was mistakenly declared the winner on the day, but this was corrected afterwards following further careful analysis.) The block D winner was local member Mike Bowser.
On a lighter note Samir Patel, who managed to play 13 games overall, managed to set up 12 sextuple lay-ups of which he made 10 attempts, amassing 38 peels in total. However, the game that drew most interest was against the Manager who playing with a total of 10 bisques also tried his luck at an attempted sextuple which broke down at penult and penult. Samir then gave chase and joined Martin also on penult and penult. At this point an honourable draw was offered but due to the favourable lay was declined.
In block E, the Handicap Egyptian, special mention must go to the winner Gary Bennett who was playing off a minus 0.5 Handicap. Winning 6/7 of his games was a considerable achievement considering the mountain of bisques that he faced.
Handicap changes were as follows:-

Martin Kolbuszewski
9 - 8
Terrey Sparks
1.5 - 2
Chris Donavan
4 - 4.5
Malcolm O'Connell
4 - 4.5
Jonathan Toye
5 - 6
Martin Mander
9 - 10

Terrey Sparks
---
| | | |
| --- | --- | --- |
| 1 August 2007 | Leighton Linslade | Newsletter (PDF, 559 kb) Richard Keighley |
---
| | | |
| --- | --- | --- |
| 28-29 July 2007 | Norwich | 'B' Level tournament - Amtrak Trophy |
Croquet in the Park: Taking a walk in the recently (Lottery Funded) refurbished Norwich's Eaton Park any visitor would be pleasantly surprised at the level of activity that was being undertaken by members of the public. Junior football, model boating, BMX cycling, pitch & putt, tennis, bowls, cricket, rides on a small gauge railway and next to a children's play area that would have done justice to any army assault course, the tranquillity of three ex-bowling greens with its Edwardian styled pavilion the home of Norwich Croquet Club. In this backdrop the club was staging its annual 'B' level tournament that had attracted a strong entry of visitors with handicaps ranging from 1 - 7.
It was immediately made clear that play was not only going to be competitive and of a high standard, this was not going to be a place for the faint-hearted with the three lowest handicaps Paul Miles, David Tester and Dean Bennison setting the mark by seeing off their opponents +19, +26 and +25 respectively. By the end of the first day Dean and David were still holding their own with 4 and 3 wins apiece. However, a dark horse in the name of George Woolhouse almost unnoticed emerged with 4 wins to join the leaders.
On the second day in a close fought game Colin Hemming managed to put paid to David Tester's advancement by winning by +3, whilst Dean Bennison in magnificent form saw off his nearest challenger George Woolhouse +18 making him the undisputed leader with 5/5. In the final afternoon game Dean played the previous year's winner Martin Leach and emerged the winner by +20, making him the tournament winner with a 100% record of 6/6 and a reduction in his handicap to ½.
Winner:

Dean Bennison

6/6

R/U:
David Tester

4/6

George Woolhouse

4/6

Ken Wheeler

3/5

Martin Leach, Paul Miles, Colin Hemming

3/6

David Haslam

2/6

Feargal Smith

1/5

Neil Chalmers

0/0

Report: Terrey Sparks
---
| | | |
| --- | --- | --- |
| 21 July 2007 | Wrest Park | Newsletter (PDF, 825 kb) John Bevington |
---
| | | |
| --- | --- | --- |
| 30 Jun -1 Jul 2007 | Norwich | Weekend tournament, 'The Chalkhill Mallet' |
10 regulars (6 from Norwich) and 2 newcomers assembled on Saturday morning under the threat from the forecasters of heavy rain for both Saturday and Sunday. In the event, Saturday started a bit drizzly, but brightened to sun in the afternoon while Sunday was sunny all day apart from one torrential downpour of 10 or 15 minutes duration. 36 games were completed of which 17 were on the Sunday when several die-hards were still playing at 7 o'clock, unusual in my experience, but good to see.

Played as an Egyptian, the tournament produced quite an eventful week-end with the first three places being separated by single points, 2 silver awards, 5 Handicap changes and a whirlwind +25 victory by youngster Callum Ringer (9) over Ian Storey (2) in 45 minutes.

Robert Halpin of Norwich figured in three of these successes, winning the tournament losing only to the runner-up, and gaining both a Silver Award and a handicap reduction from 12 to 11. This was considered to be not nearly enough by his victims on Saturday when he won his 4 games with scores of +23, +21, +26 and +26, your reporter being one of the 26s!

Harry Bruford of Bodham and Norwich was runner-up, again losing only one game and the only one to beat Robert. He also gained a handicap reduction from 12 to 11.

The afore-mentioned Callum Ringer of Bodham and Norwich came third (just failing to beat Harry, his first mentor), gained a Silver Award and a handicap reduction from 9 to 8 all in his first tournament as a Junior Member of the CA. Are we looking at a star of the future?

I am happy to record that one of our first-time visitors Gill McDiarmid (4) from Woking came fourth after a hesitant start, but perhaps a veil should be drawn over the lower placings.

The sad news is that two of the handicap moves were upward, Ian McDiarmid from 10 to 11 and Feargal Smith from 3 to 3½. At least he is back in Longman Cup contention!

Report: Neil Chalmers
Photos: Ian Storey
---
15-17 Jun 2007
Hunstanton
Over 50s Tournament

Hunny is sunny for most of the time
A delightful three days spent at Hunstanton for their Over 50s tournament. 21 entrants – an extra player arrived on the first morning – but ably sorted and managed by Ian Storey. Sunshine against all predictions, although we did experience a half hour of monsoon on Saturday, (witnessed in splendid isolation from the shelter on Lawn 5 by your correspondent as everyone else cowered in the Clubhouse).

Excellent food and a friendly, relaxed atmosphere. Umpteen games played, as everybody was so keen to get on to Hunstanton's immaculate sward (very well kept by groundsman Jeff Race who takes a personal interest as his own game improves on an exponential basis).

The devious Egyptian points system meant that we never really knew who was going to win until the last game on Sunday. Chris Donovan was in the lead at the close of Day 1, with Terrey Sparks lurking. Terrey surged into pole position on Day 2 with Patricia Duke-Cox and Jonathan Toye close behind. On Sunday afternoon it looked as if Terrey would retain the trophy that he had won in 2006 but the doughty David Tutt had other ideas.

After an hour's play the bisques were gone and Terrey had one ball on peg the other on rover, with David on hoops 1 and 2. In a fascinating comeback, following the croquet player's motto of nil desperandum, David crept up and overtook his opponent to win by 3, knock Terrey into second place and present Patricia D-C with another Jane Neville-Rolfe Salver.

Jonathan Toye
---
| | | |
| --- | --- | --- |
| 12 Jun 2007 | Wrest Park | Newsletter (PDF, 476 kb) John Bevington |
---
| | | |
| --- | --- | --- |
| 12-13 May 2007 | Colchester | Colchester B Level Tournament & Fashion Parade |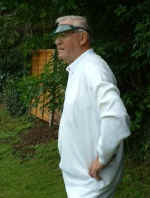 Sixteen players with handicaps ranging from 2 to 7 (fifteen regulars and one newcomer) assembled to do battle under manager Colin Hemming's idiosyncratic interpretation of the Egyptian format. This format is closer than usual to Paul Hands' original format, and involves a differential starting index depending on your handicap (the lower the handicap the higher your index), and the eventual winner decided not on the highest index at the end, rather the highest increase in index. Play commenced on the Saturday in good conditions but with the expectation of showers. Newcomer Dean Bennison was the first to make a showing, not in the croquet but in what turned out to be an impromptu Fashion Parade (or strictly speaking, I should say Millinery Parade); he was originally sporting a rather dashing brown Fedora, but when the threat of rain appeared to disappear and the sun shone briefly this was replaced with an absolutely stunning silver-grey Stetson. Not a ten-gallon hat exactly, but at least twenty two and a half litres I should say. Regular competitor (not to say old lag) George Woolhouse was quick to respond to this by turning his flat white cap to create the Louis Blériot look: very 2007, and the perfect complement to his facial hair, also new this year and probably best described as a micro-mini-imperial; very dashing, George, and oh-so up to the minute.
Time limits for the games were two hours plus six Wharrad turns: plenty of time for B-class players to complete their games; first to return to the clubhouse were Terry Mahoney and Ian Storey (both hatless), Terry having prevailed +24 in about an hour and a half. These were closely followed by George Woolhouse (see above), who had made short work of George "Laughing Boy" Winder, who was wearing, believe it or not, a straightforward cloth baseball cap! S-o-o-o last century, George; and your croquet suffered, of course. Games then came in thick and fast, so that by lunch-time everyone was well into his or her second game, apart from the four who had already completed the first two! Remarkable progress by B-level standards.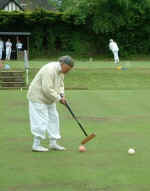 By the middle of the afternoon, everyone who was going to make a move in the fashion stakes had done so, though mostly just trotting out last year's model (or more probably the last-five-years-model): some were related to other sports and pastimes: Mark Homan had his familiar cricket cap, and Nigel Gardner the Tilley hat so beloved by sailors. Ken Pickett barely qualified with his well-known green eyeshade (was he a bank teller in real life?), but most out-of-touch of all was Neil Chalmers, still sporting his American style NCC hat, despite having been so blindingly eclipsed by Dean's magnificent Stetson.
The expected shower came in the middle of the afternoon: not so much a shower of rain as a tropical downpour, heavy enough to stop play for a short time. During this period everyone put on some sort of headgear apart from Ian Parkinson; perhaps he felt that the hair plastered close to his head helped create the smooth-headed Monsieur Michelin look.
At the end of Day One, everyone had played three games, and those who wanted to had played four. Overnight leader (of the croquet tournament), and showing a welcome return to form, was Neil Chalmers on +16 index points, followed by Dean Bennison on +12 and Terry Mahoney on +8; Mike Porter and Ian Storey were still in with at least a theoretical chance on +6. And so we all retired home or to our lodgings. But for five competitors and the manager (plus a couple of hangers-on) the evening was to continue with a splendid pub meal. Five players was a disappointing response to such an enjoyable evening, we all thought, but the full horror was only revealed to us when the reason became apparent as we opened our newspapers the next morning. The Eurovision Song Contest! Shame on them all!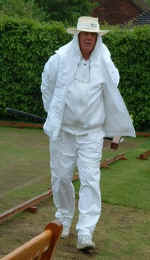 The weather forecast for the Sunday was grim indeed: rain, torrential rain, and then a bit more rain. We needed to squeeze in two more rounds of play, so play started promptly. Not much activity in the Fashion department, I am sorry to say, apart from by George Woolhouse, who had discarded his white cap in favour of the tweed one that had earned him last year's soubriquet of "Paraffin Head" (the proofing, you see). On the face of it, of course, a disaster to appear in last year's model, but George turned the tables (and his cap) brilliantly to combine the old favourite with his new Louis Blériot look. Well done George, I think we can all say that Tweed is the new White; I'm sure we shall all be following your lead this season. At the other end of the scale, Laughing Boy Winder tried desperately to gain some credibility by turning his baseball cap back-to-front, illustrating only how out-of-touch he is, and Neil Chalmers actually wore a hoodie, topped, rather incongruously, with his NCC hat. There were mitigating circumstances, in that Neil was not feeling well: not, I can attest, due to any over-indulgence the previous evening, but to the onset of a virus. Nevertheless Neil, there are limits . . .
Meanwhile, in the croquet tournament Neil had fallen victim to the steady play of Ken Pickett, but Dean and Terry had both won their first games, setting themselves up for what proved to be an exciting final. This, and everyone else's second games, had started before lunch. No significant rain yet. During lunch, the manager played for everyone's entertainment "Croquet Habits" by Freeny's Barn Dance Band, a record which will be familiar to all subscribers to the Croquet internet newsgroup. For those who don't know it however, this recording was made in the late 1920s or early 1930s and appears in a recently-published compilation of ultra-rare Jazz and Blues records from that period. Not to everyone's taste of course, but all those present seemed to enjoy it, and after the doors were unlocked play continued.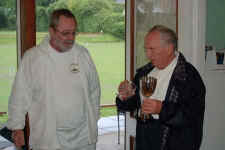 Sadly, a few people drifted away as their games finished (to avoid the "inevitable" downpour) but enough held on so that by the time the final finished at about 3:30 there were still about a dozen of us left to applaud Terry Mahoney, who had beaten Dean Bennison +6. Meanwhile, Mike Porter had performed very strongly in his last two games to come second, pushing Dean back into third place. After the presentation, the few outstanding games were finished and everyone had left by about 4:00 to avoid the heavy rain that really seemed imminent. In the event, it never materialised (there were showers, but no big storm).

The Fashion Parade was very much a straight competition between Dean and George Woolhouse, and after much deliberation I have awarded the honour and the title of "Fashion Guru" to George: the triumph of ingenuity and inventiveness over clear technical superiority. Sounds a bit like George's croquet, come to think of it.

Report: Colin Hemming
Photos: Colin Hemming and Mike Porter
---
| | | |
| --- | --- | --- |
| 5-7 May 2007 | Hunstanton | The Robert Pritchard Advanced Tournament |
A strong field gathered at Hunstanton over the May Bank holiday for the Robert Prichard Advanced Tournament, where the club's lawns looked superb and during the tournament received much praise for being conducive to precision play.

After three days of an Egyptian, Chris Patmore from Surbiton and Wrest Park's Jon Watson could not be caught by the rest of the field, both on 9/10 with one game to play, but it seemed Patmore would emerge the winner as he had beaten Watson on the first day. However Patmore, to the delight of the manager, very sportingly said that given the circumstances he would rather play Watson again – effectively a final.

Given freedom from double banking on lawn four, Watson gained early momentum but broke down at 3B. Patmore took full advantage of the short roquet left by the incomplete spread, going to 4B with a NSL, and when Watson's shot down the line missed, Patmore concluded the tournament with an elegant triple.

The cuisine had been excellent, the barrel of ale emptied, and more than ninety games had been played, prompting many to say they had thoroughly enjoyed the weekend.

But my lasting memory will be of the great sportsmanship shown, an immense credit to the players and the sport of croquet.

Report and photos by Ian Storey
---
| | | |
| --- | --- | --- |
| 31 Mar 2007 | Bodham | Bodham Croquet juniors celebrate new equipment. |

Bodham Croquet Club have a thriving Junior Section. Thanks to a generous grant from Holt Area Partnership we have managed to buy six Junior-sized mallets which the youngsters were pleased to receive. From Monday April 16 we shall be holding weekly Junior sessions. The sessions start at 6.30pm and last for 1 hour at a cost of 50p per session.

Anyone wishing to play Croquet, Adult or Junior, please contact the Secretary Harry Bruford on 01263 588122.
---
24 Feb 2007
Bodham

Bodham Croquet Club have received a grant of £480 From Holt Area Partnership to purchase six small-sized mallets for our junior players who have trouble with full-sized mallets. These have been ordered from Michael Percival. We have a thriving Junior Section and it's pleasing, in such a small village, to be able to introduce youngsters to the game.

Harry Bruford
---
| | | |
| --- | --- | --- |
| 21 Feb 2007 | Wrest Park | Newsletter (PDF, 638 kb) John Bevington |
---