---
March 17th/18th 2007 - Indoor Association Croquet at Soham
Sunday 18th

David Tutt and George Woolhouse of Letchworth won the Cornelius Cup at Soham last Sunday. They were runners up in February and excellent play from both of them this time brought a well-deserved victory.

East Anglia is the most experienced region at indoor croquet and the standard of play continues to improve as each year goes by. This is partly due to hard-to-find villages such as Northlynn, Norips and Chelsworth where indoor croquet has become very popular.

Anglian Croquet Man has learnt to save time by playing uncomplicated breaks and resist the temptation to separate opponent's balls all the time. Some huff and puff around the court, others act as though they are on a relaxed stroll. Don Cornelius (a native of Northlynn) has played indoor croquet since the mat first began 15 or more years ago. He lulls the unsuspecting opponent into a false sense of security by strolling slowly round the court in an apparently casual attempt to make a break from nothing – then $%&*! – he has made 6 hoops, left his partner with a rush to 1 and your balls are about 25 miles apart and treble crosswired!

The Man of the Match for me was George Woolhouse (Irish Grip, swinger) his stroke play is simply beautiful to watch. Hoop runs are silky smooth, he has an unhurried backswing and a follow through to die for (HEALTH WARNING - dying can kill). All of this makes him deadly (woops) accurate. As you would expect, his partner David Tutt played very well throughout the day and adds yet another trophy to his pile.

It was really good to see two new players from Bury St Edmunds. Simon (7) and Justin (18). To begin with they struggled to master the special tactics of indoor croquet but as time went on they became more and more competitive and managed a +6 victory against Norips.

Someone said they were astonished that more people do not want to play indoor croquet. It is an action packed day, 6 games and brilliant fun. Personally I think we should keep it a secret.

Duncan Hector

Saturday 17th

Left to right:
Richard Smith (St. Albans),
Colin Hemming (manager),
Jon Palin (St. Albans)

Left: David Tutt
Right: George Woolhouse
---
February 17/18th 2007 - Indoor Association Croquet at Soham
Saturday 17th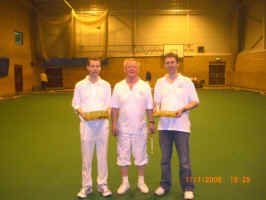 Saturday winners, left to right:
Jon Palin, Michael Percival (Manager),
Richard Smith
The tentacles of the European Union reached the remote area of the fenlands this weekend with the introduction of a revision to the baulk line positioning of the ball. Both the north and south baulks were shortened so that balls could only be positioned from the corner to the nearest hoop. This latest innovation imported from our Belgian playing brotherhood certainly had an immediate impact making it slightly more difficult for the senior players. In addition it was also decided to revise the wiring lift so that the full handicap version replaced the short croquet variant that was used in the past. Again an attempt to make life that much more difficult.
However, not to be outdone the St. Albans team of Richard Smith (1/2) together with the club's bright new prospect Jon Palin (18), with their total of 3 bisques immediately made their presence felt demolishing their opponents one by one like a tiger tank ploughing through a butter mountain. The joint entry of Norips i.e. Michael Percival (1) and Terrey Sparks (3) was their first victim and quickly dispatched +12. Despite some rugged resistance by Colchester comprising David Haslam (5) and Peter Kenward (18) who managed a draw, the Herts pair stormed on remorselessly although Letchworth David Tutt (1/2) and George Woolhouse (1/2) in a last ditch stand only lost -2 on time in a close run game. Overall St Albans ran out the worthy winners 4.5 wins with Letchworth runners up 3.5.
The unusual sight of Richard Smith using his junior partner's bisques on seven occasions to deadly effect during the day attracted much mirth giving the Manager much to think about overnight. So much so, that on the Sunday a further new rules amendment appeared restricting the senior players use of bisques in the future. But, then again that's another story.
Terrey Sparks
Sunday 18th
There was a good mix of teams on Sunday with combined handicaps ranging from one team receiving 8 bisques to two required to make 2 peels. The new rule preventing low handicap players taking their high handicap partners? bisques was now in place much to the chagrin of at least one low handicapper. The tournament came down to a very tight finish with Northampton (Nick Evans and Charlie Askew) playing Hunstanton (Jeff Race and Brian Saddington) in the last round. If Hunstanton had won this match the tournament would have gone to Ipswich. In the event Northampton just squeaked through +1 making them the overall winners.
David Kitson
---
January 13/14th 2007 - Indoor Golf Croquet at Soham

Saturday winners with Tony Marks.
Left: John Cundell,
right: Richard Keighley.

The weekend proved to be a popular event with 7 clubs taking part. Bury St Edmunds, Downham Market and Newport entered teams for both the Saturday and the Sunday.

Finalists on the Saturday were Leighton Linslade Team 1 (Richard Keighley and John Cundell) and Downham Market Team 2 (Linda and Martin Ambrose). The winners were Leighton Linslade.

Finalists on Sunday were Norwich Team 2 (Sarah Barley and Ann Tallowin) and Newport Team 1 (Pat Marks and John Sibson). The winners were Norwich.

People seemed to enjoy getting out for a game of croquet in the winter. I hope the event continues to be popular.


Sunday winners with
David Kitson.
Left: Sarah Barley,
right: Ann Tallowin.


Tony Marks
---
December 16/17th 2006 - Indoor Association Croquet at Soham
For the first time a new format was tried. Instead of the usual entry of pairs representing clubs, individual players were entered with each player given a different partner in each round, the winner being the player involved in the most winning games. The new format was voted a success, although perhaps with more enthusiasm on Sunday than on Saturday when it was still bedding down. The general view was that it could be tried again on one weekend the following season. Particularly welcome was the number of new high handicap players who entered.
The winner on Saturday was Jonathan Hills with 5 wins out of 5 and Terry Mahoney was runner up with 4 out of 5. On Sunday the winner was Paul Stevenson with Terry Mahoney again the runner up.
On Sunday a presentation was made to Michael Percival to thank him for running the indoor tournaments for the last eight years. To mark the impending Christmas festival Colin Hemming kindly provided glasses of the appropriately named Croquet aperitif.
David Kitson
---
November 25/26th 2006 - Indoor Golf Doubles at Soham
No fewer than 9 clubs entered, each providing two and, in two cases, three teams. The entries were divided into two groups with the winner of each group playing a final match. Each match was played on a times and handicapped points system with no limit on the handicap.
Saturday's finalists were David and Helen Manley (Newport 2) and Don Barrett and Peggy Kenny (Wrest Park 1). A very closely matched final saw Newport 2 winning.
Sunday's finalists were Ann Sweeney and Brian Cash (Bury St Edmunds 1) and Batty and Roger Lambert (Letchworth 2). Another very close final was won by Bury St Edmunds 1.
I would like to thank all those clubs and players who took part in this most enjoyable weekend's golf tournament. I hope to see even more clubs and players at our next Indoor Golf Event at Soham on 13/14th January.
Tony Marks
---
Saturday October 21st 2006 - Indoor Association Croquet at Soham
Seven teams competed in the first indoor tournament of the season. With a rather patchy entry some of the teams could fairly be described as hybrid. Thus while Colchester and St Albans were both represented by two pairs there were also composite teams from Downips (Downham Market and Ipswich) and Northwich (Northampton and Norwich). Letchworth looked like a team with a solid foundation but in fact turned out to be Duncan Hector partnered by anybody who wasn't playing for someone else at the time. In fact, Duncan was clearly able to inspire his partners to raise their game (or perhaps he was just shrewd in picking them) to the extent that he won 5 of his 6 games, a total only equalled by St Albans B (Terry Mahoney and newcomer Jon Palin), St Albans being declared the winner on the basis of net points won.

David Kitson