Association Croquet

Golf Croquet

Click on images for an enlargement

Soham by season:
---
March 10-11 2012 - Indoor Golf Croquet
Even the most experienced players become frustrated with their game in the Sports Hall at Soham. The hoops are unforgiving and the bias of the carpet is difficult to master, which makes games all the more enthralling to watch!

Handicap play on Saturday had teams in the competition from Bury St Edmunds, Leighton Linslade, Newport, Hunstanton and Stony Stratford. Both Leighton Linslade teams had successes in their first 3 games, John Thorpe (6) and Malcolm Kirby (8) demonstrating consistent play. Barbara Plested (10) of Bury St Edmunds surprised herself by executing a perfect jump shot at the first hoop as she and her partner, Jan (7), beat the team from Newport. Rex Gower (7) and Alfred Strawbridge (10) from Stony Stratford played tactically losing only one of their 7 games but drawing 2. Their overall position in the competition at the end of the day was 2nd. Newport and Leighton Linslade 'A' were equal 3rd. The winners were a scratch pairing of Chris Howell (5) of Bury St Edmunds and Terry Kendall (9) of Hunstanton.

Sunday's Level play event was very competitive, all teams determined to win. Aggressive shots were fired around the hall as carefully positioned balls were cleared from the hoops. Strategic play was in evidence. The Colchester pair of Ann and Jane were slow to get points on the scorecard, the second Bury team of Brian and Alan were out-played. Leighton Linslade, Letchworth and Bury 1 were all in contention at lunch. At the close of play Bury and Letchworth had both been defeated by Leighton Linslade's John Cundell & Richard Keighley who took the trophy.

Report by Chris Howell

Manager: Chris Howell
---
February 11-12 2012 - Indoor Association Croquet
Saturday 11th February
Well, if you thought it was a bit cold at the January Tournaments, Saturday 11 February 2012 far exceeded that! Having left Norwich at -6 degrees C, I was horrified to look at the temperature gauge on arriving at Soham 75 minutes later to see it registering -13! For the first time ever there was competition to be a time-keeper as the only sources of heat were fan heaters directed at the clock tables. The manager having advised that we come equipped with copious amounts of hot beverages, there was considerable competition for the biggest flask. I think 2 litres probably won the day. In addition there was a variety of warming head-gear on display with Wendy Dominguez's Tyrolean bonnet complete with tassel and earflaps definitely taking the prize.
Now to the Croquet. Format was the increasingly popular Progressive Speed Doubles in which partnerships change every game. Teams are derived from one member from the Lower Handicap Block, the other from the Higher Handicap Block, each block containing 8 players. Perhaps it is a comment on the temperature that only 3 games out of 20 were not decided within time while 2 were drawn, a novel concept in croquet. An interesting development is the number of teams choosing to start by shooting at hoop 1, a large percentage coming off to a greater or lesser degree. One of these was a spectacular effort just failing to run hoop 2 as well as Hoop 1, my only moment of glory! At the same time, declaring the third turn ball in corner three, fashionable over the last few years, appears to be on the decline.
Two clear winners emerged from the Lower Handicap Block – Jeff Race (surprise, surprise!) and Adrian Kirby both winning all their 5 games. Jeff was declared the winner by dint of his winning all 5 games within time, while Adrian won only four. The Higher Handicap Block was a little less clear-cut with Tim Race (surprise, surprise again!) and Steve Lewis both winning four of their 5 games, the winner again being decided by Tim winning all four within time, while Steve won three. The final therefore pitted the "Brace of Races", against Adrian Kirkby and Steve Lewis and, as so often in the past, the Races triumphed. Details of the contest are sparse, but I liked Adrian's comment when asked if he could remember the score. His reply was "substantial! We only used half our time and had bisques left. We were 'eRaced' by the opposition".
Colin's management was as smooth, streamlined and seamless as ever, but I'm sure he was pedalling like the dickens underneath, if only to keep warm! Thank you from all of us.
Sunday 12th February
Seeing the last day of the Indoor Speed Doubles Croquet and what a day and what a year, first by the new faces, old faces and cold faces but always smiling, new winners and old winners.
Did we leave the best till last? The answer is 'yes' I say, with an early start at 8.30 which saw the first games begin. Colchester (1) won by clearing up the favourites Hunstanton by +7, and the top seeds of Ipswich doing the business against Burywich with their 3 peels in time with +8. The trend was now set, and then the late arrivals started: a draw between the other two Colchester Teams and the Northampton Team beating St Albans by +5, Ipswich continued to do their peels and win, Hunstanton made steady progress, then Colchester (1) just failed to overcome Colchester (3) with their three bisques and 2.5 minute penalty. We then watched Sue run Rover from the side of the penult hoop thus leaving both Rob and herself on peg with no time left, so David and Jane made steady progress by stopping Sue from hitting the peg to win by +1. In the next game David and Jane put Ipswich down by +5. The time was now 4 o'clock, Colchester (1), Hunstanton and Ipswich were on 3 wins from 4 games and Colchester (3) on 2.5 from 4 games, and the rest were left juggling in the bottom half. Ipswich (3) peeled very quickly to see off Hunstanton by +7 and Colchester beat Burywich by +6. Both teams are now on 4 wins from 5 games, nailing biting, OH YES! It now came to the last game. The Manager said "On the greater of the wins Ipswich needed Northampton to beat Colchester (3)" which left Martin and Phil looking like not the most attractive cheer leaders in the world and the rest of us cheering on Colchester (3). Time was called with Northampton winning +1 on time. Phil was seen doing a brilliant impersonation of a Kangaroo. Martin and Phil were worthy winners on the day making them victorious 2 years in succession for Ipswich.
One more thing, we always thank Colin for his organizational skills on these events but especially on this occasion because as you were all aware Georgeen and Colin carried on admirably although having been involved in an accident due to the adverse weather conditions on route to Soham that day. Thank you!
Names
Team
Game
Points
Rank
Martin French & Phil Eardley
Ipswich
4
1
Rob & Susan Fulford
Colchester (1)
4
2
Jeff Race & Bryan Saddington
Hunstanton
3
3
David Haslam & Jane Collier
Colchester (3)
2.5
4
Charles Askew & Nick Evans
Northampton
2.5
5
Mike Percival & Peter Allnutt
Burywich
1.5
6
Colin & Georgeen Hemming
Colchester (2)
1.5
7
David Kitson & Heather Bennett
St. Albans
1
8
Report by Jeff Race

Photos by Duncan Hector

Manager: Colin Hemming
---
January 14-15 2012 - Indoor Association Croquet
Saturday 14th January - Speed Croquet
It was an historic occasion at Soham on 14th January 2012. Not only did a team from Watford appear at Soham for the first time, but this was also the first ever 9-team event. Not on purpose, you understand: we had originally planned to repeat the 10-team format that had been tried successfully the previous January. The event, however, was so bedevilled with drop-outs due to illness and injury that when the last withdrawal was on the Thursday evening before the event the manager decided to take the line of least resistance and devise a way of playing with 9 teams. It took longer and a few more brain cells than he had thought but in the end it worked.
In essence, the event is played in two blocks, each containing four teams, and each team in a block plays teams in the other block, not its own block. The ninth team is appended to both of the two blocks and the games adjusted so that in the first phase (rounds 1-9) each team plays four games: the ninth team plays two games in each block, and the other opponents are adjusted so that all teams play 4 games
At the end of round 9 the team with the lowest overall number of wins (across the 2 blocks) is eliminated, and if necessary the ninth team makes up the numbers in the depleted block. All teams are now ranked 1-4 within their own block, and transferred to the final block for the two final rounds, where 1's play 2's and 3's play 4's. The winner is the team in the final block with the greatest number of wins over the whole day, with the usual differentiators used to decide the winner in the case of a tie.
This is where it is customary to say that it is all a lot simpler than it looks. In this case, however, it is just as complicated as it looks. But it works!
In the event, newcomers Watford (Alan Clark and Wendy Spencer-Smith) were the "odd ones out", the ninth team playing games in both blocks. They acquitted themselves well; not actually winning any games but going down by scores of -8, -5, -3T and -1T. It is no disgrace, indeed quite an achievement, to perform so well against teams who are so well-practised in the specialist tactics of Speed Croquet. Nevertheless, they were the team that was eliminated after round 9.
The Red Block was dominated by Colchester 1 (Steve Woolnough and David Haslam), who had four wins, all within time, and in their final game they played Colchester 2 (Colin and Georgeen Hemming) with two wins, both on time. The Blue Block winners were Letchworth 1 (Jeremy Scott and Keith Rhodes) with 2 wins, and they played off against Newport (Jim Potter and Bernard Yallop) with two wins, both on time. In both cases the block winners prevailed, leaving the final result as:
| | | |
| --- | --- | --- |
| 1st | Colchester 1 | 5 wins |
| 2nd | Letchworth 1 | 4 wins |
| 3rd | Colchester 2 | 2 wins |
(Newport were in fourth place by only the narrowest of margin on quality of opponents.)

The 3rd vs 4th place matches didn't take place, most other players deciding that enough was as good as a feast. Everyone went home happy.

Report by Colin Hemming

Sunday 15th January

This tournament was as usual handicap speed doubles, in this case the most normal variety rather than changing partners progressively or alternate stroke. Pairs have 25 minutes each on a chess style clock. Handicaps for minus players include mandatory peels and having time docked and added to the opponents time.

The time limits are tough enough that you have to play very directly. A turn where you visit 3 corners of the lawn, keep the innings but don't make any hoops is okay in normal croquet, but here it can be a costly waste of time. Games are pretty non stop for both sides.

The handicaps work very well and there were lots of really close games, 11/20 finished with a score of 3 or less including one draw?! Our games tended to end up with us scrambling though rover just as our time ran out and then having a tense ending where the opponents made progress and while we took pot shots at the peg, unable to take croquet again.

The winners were Duncan Hector and Nick Mounfield with 4/5 pipping Mike Percival and Peter Allnutt by merit of having won more games without going to time. Nick's pedometer suggested he had walked 5 miles in the day, though he confessed half steps register like full strides so perhaps that overstates things. Good exercise anyway.

No croquet report would be complete without the weather, and it was cold. The heating wasn't working! Thankfully this was well advertised in advance so we all had plenty of layers on for periods sitting out and time keeping.

Thanks to Terrey Sparks for managing and Colin Hemming for organising. Looking forward to the next weekend.


Photos by Duncan Hector Report by Susan & Robert Fulford

Manager: Colin Hemming
---
December 10-11 2011 - Indoor Association Croquet
Saturday 10th December
We started with a period of silence in memory of Nigel Graves whose funeral was being held today. He was formerly the Secretary of the Croquet Association and a true gentleman and is remembered fondly by all who knew him.
The format for the day was handicap doubles with a twist – no heating in the hall! Everyone came well prepared especially Terry Sparks and Neil Chalmers who looked like a pair of snowmen.
The teams were mostly well worn Sohamites apart from Heather Bennett from St Albans and Gabrielle Higgins representing Bygrave. Heather started playing croquet this year and it is brilliant to see such a newcomer taking on the slick grass of Soham. Gabrielle has a slightly different pedigree and has been the CA's most improved lady player two years running 2010 and 2011.
Duncan and Gabrielle had to do 3 peels and 2½ minutes less time, at least that is what they thought until corrected by Neil who reminded them that their opponents were given 2½ minutes extra time.
The day's play was very exciting and soon the jumpers were coming off – we didn't notice the lack of heating. Unusually Jeff Race of Hunstanton was not on form and he and his son Tim struggled through the day. The outcome was a real cliff-hanger and four teams were in contention as they went into the last matches of the day. Colchester 1 (the Hemmings) had been sneaking wins and Colin was peeling his partner at every opportunity. St Albans with Terry Mahoney at the helm were winning by large margins although Downstanton spoilt their clean sheet. The snowmen of Norwich had only been beaten by Bygrave who were zipping along on 4 wins.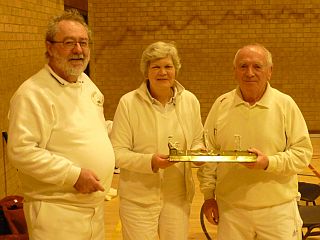 Manager Colin Hemming with Saturday winners
Heather Bennett & Terry Mahoney So in the first of the final two matches Bygrave played Colchester 1 but made two errors, an easy peel at hoop one was missed and a straight run of penult from a foot away was rejected giving a +4 victory to Colchester. So all attention now turned to Norwich versus St Albans. With Terry's guidance Heather was playing her socks off and as a result St Albans beat Norwich comfortably +9 and so won the trophy with Bygrave in second place and Colchester 1 third.
Names
Team
Game
Points
Rank
Terry Mahoney & Heather Bennett
St. Albans
4
1
Duncan Hector & Gabrielle Higgins
Bygrave
4
2
Colin & Georgeen Hemming
Colchester 1
3½
3
Terrey Sparks & Neil Chalmers
Norwich
3
4
Jeff Race & Tim Race
Hunstanton
2
5
Chris van Essen & Alec Osborne
Meldreth
2
6
Mike Bowser & Jonathan Toye
Downstanton
1½
7
Nick Steiner & Jane Collier
Colchester 2
0
8
Sunday 11th December
A positively sunny morning greeted us in the hall – yes, could this be a first? All the lights were working! The players were mostly the 'regulars' but included new boy Steve Lewis from Hunstanton. He hasn't played croquet for a long time and used to be a 4 – now demoted to 14. The format was Alternate Stroke Doubles which apparently isn't popular in some quarters but was with this group of players.
The day was marked by contrasts, Hunstanton's new pairing was beating everyone while Bygrave 2 and Norchester were languishing. I partnered beginner Peter Whiting as Bygrave 1 and we both played like drains in the morning. Control, control, control. That was what we missed. Our shots were consistent. Consistently too long or consistently too short. Very frustrating.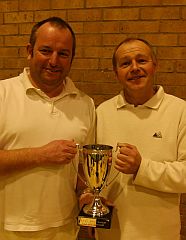 Sunday winners
Steve Lewis & Jeff Race Alternate shot requires a different skill set, badly placed pioneers lead to often difficult split rolls and inevitably the high handicapper seems to have to play the hardest shots. Very challenging and interesting too. As it happens Peter and I played well in the afternoon and everything seemed so easy. That is Soham!
In third place were Colchester 1 Colin and Georgeen Hemming. The strong Burywich pairing of Mike Percival and Peter Allnutt clocked up a series of big wins but fell to Hunstanton in their last match of the day which sealed a well deserved victory for Hunstanton's Jeff Race and Steve Lewis.
Names
Team
Game
Points
Rank
Jeff Race & Steve Lewis
Hunstanton
5
1
Mike Percival & Peter Allnutt
Burywich
4½
2
Colin & Georgeen Hemming
Colchester 1
3
3
Duncan Hector & Peter Whiting
Bygrave 1
3
4
Peter Kenward & Jane Collier
Colchester 2
2½
5
Terry Mahoney & Patricia Duke-Cox
Bygrave 2
1
6
Nick Steiner & Neil Chalmers
Norchester
1
7

There is a lot of behind the scenes and on the spot work to arrange these weekends and Colin Hemming deserves and receives our grateful thanks.

The Young Timers

Neil Chalmers horizontal

Mike Percival

Colin Hemming & Mike Percival
checking the laws
Report and photos by Duncan Hector
Manager: Colin Hemming
---
November 12-13 2011 - Indoor Association Croquet
Saturday 12th - progressive doubles
Progressing through the formats, expert manager Colin Hemming had reached progressive doubles for the third day of the season, with players changing partners every game. He progressed through the games just as expertly, ending second in the low handicap block to earn his place in the final, where he and Ann Brookes proceeded to beat Jeff and Tim Race +10 to win the day. Jeff and Tim continue to be formidable indoor players, each winning their block. Tim in particular engaged in some crowd-pleasing, at one point peeling rover from beyond the peg, then jumping through a long sharply angled rover himself. It was difficult to decide whether the crown for shooting prowess should go to him or Nick Mounfield, as neither ever seemed to miss.
The day attracted two newcomers, and a low range of handicaps, with only 4 players having double figure handicaps. That may explain the facts that only 4 games went to time all day (perhaps just as well since the second hand broke off one of the clocks early on!) and in a significant number of games one side whizzed round before the other had barely started.
Overall a thoroughly enjoyable and very sociable day, with the nippy carpet making a very pleasant change from long and slow winter grass. Bring on December!
Lower Handicap Block

| Name | CA Handicap | Game Points |
| --- | --- | --- |
| Jeff Race | 0 | 4½ |
| Colin Hemming | 1 | 4 |
| Nick Mounfield | -½ | 3½ |
| Nick Steiner | 1 | 2½ (2) |
| Jonathan Hills | -1½ | 2½ (1) |
| Terrey Sparks | 1½ | 1 (1) |
| Duncan Hector | -1 | 1 (1) |
| Gabrielle Higgins | -1 | 1 (1) |

Higher Handicap Block

| Name | CA Handicap | Game Points |
| --- | --- | --- |
| Tim Race | 6 | 4 (4) |
| Ann Brookes | 14 | 4 (4) |
| Peter Whiting | 24 (18) | 3 |
| Neil Chalmers | 5 | 2½ |
| Mike Bowser | 4 | 2½ (2) |
| Georgeen Hemming | 10 | 2 (2) |
| Jane Collier | 10 | 1½ |
| Peter Hanley | 4 | 1 |
Report by Gabrielle Higgins

Sunday 13th - normal speed doubles

Eight entries competed in the normal speed doubles on Sunday whose indoor handicaps ranged from 2 peels up to 3.5 bisques. Play was of a high standard so that the majority of games pegged out within time, which resulted in the playing schedule staying much on time.

The Letchworth pair of Jeremy Scott/David Clancey made a brisk start and after 3 rounds led on a maximum 3 wins, being closely chased by Bygrave, Hunstanton and Northchester each on 2 wins apiece. After the 4th round the Hunstanton pair of Jeff Race/Terrey Sparks managed to draw their game with Letchworth whilst the Northchester grouping of Nick Steiner/Nick Evans won against the Burywich pair of Mike Percival/Peter Allnutt. This meant that the position at the start of the final round stood at Letchworth leading on 3.5 wins, with Northchester on 3 wins followed by Hunstanton on 2.5 wins.

However, Letchworth were not to be outdone, managing to win their last game against Colchester thereby running out the undisputed winners on 4.5 games.

| Names | Team | Wins |
| --- | --- | --- |
| Jeremy Scott & David Clancey | Letchworth | 4½ |
| Nick Steiner & Nick Evans | Northchester | 3 |
| Duncan Hector & Peter Whiting | Bygrave | 3 |
| Terry Mahoney & David Kitson | St. Albans | 3 |
| Jeff Race & Terrey Sparks | Hunstanton | 2½ |
| Mike Percival & Peter Allnutt | Burywich | 2 |
| Colin & Georgeen Hemming | Colchester | 1 |
| Robert Skeen & Keith Harker | Meldreth | 1 |
Report by Terrey Sparks
Photos by Duncan Hector and Terrey Sparks

Manager: Colin Hemming
---
October 15-16 2011 - Indoor Association Croquet
Saturday 15th
The first indoor fixture of the 2011/2012 winter season took a little time to get going with almost everyone having forgotten quite how fast the carpet is and how difficult the hoops at Soham are to run. The obvious exceptions being the newly-formed Bygrave team who managed to complete their 2 mandatory peels within the first minute of their first game!
Duncan and George (along with the Colchester 1 pairing of Wixy and Nick Steiner) did, however, find their peels a little harder to come by in later games, proving that the mandatory peel system is a great leveller on the indoor stage.
The game which ultimately proved to be the decider was a father and son match-up between Hunstanton (Jeff and Tim Race) and Northingham (Brian and Omied Hallam representing Northampton and Nottingham respectively). Hunstanton squeezed home narrowly with a +2 victory, which proved to be the decisive point in their end-of-day tally of 4 wins.
The only pair to beat Hunstanton were St. Albans who finished the day in second place courtesy of a marginally better quality of wins than Northingham who claimed third place. Impressively, this was both Heather Bennett's (St. Albans) and Omied Hallam's first time at Soham. No doubt both will be keen to do even better when they next return.
A big thanks as always to Colin Hemming for another excellent managerial performance.
Names
Team
Game
Points
Wins
within
Time
Rank
Jeff Race & Tim Race
Hunstanton
4
1
Terry Mahoney & Heather Bennett
St. Albans
3
3
2
Brian Hallam & Omied Hallam
Northingham
3
3
3
Duncan Hector & George Woolhouse
Bygrave
3
2
4
Jack Wicks & Nick Steiner
Colchester 1
2½
2
5
Nick Mounfield & Keith Rhodes
Letchworth 1
2½
1
6
Colin & Georgeen Hemming
Colchester 2
1
7
Ian Mantle & David Morris
Letchworth 2
1
7
Nick Mounfield

Sunday 16th

The Alternate Stroke format makes its debut on a Sunday. Unfortunately, October is always a difficult time to get a full house at Soham (probably something to do with doing all those chores we have been putting off during the summer season), and so we are down to seven teams, and that only after some pleading and bullying by the manager, which resulted in a couple of "portmanteau" teams from two different clubs. It was good to see old hand David Kitson back in action here, looking fit and well, and we were pleased to welcome two newcomers: Peter Whiting from Bygrave and David Matthews from Letchworth

Paradoxically, one fewer team means that one additional round has to be played. On Sundays the sports hall always has to be vacated by 6 o'clock, so the consequence is that players are always under pressure throughout to turn games around quickly, and even more so when only 7 teams are playing. Despite the unseemly scheduled start time of 8:30 and an actual start time of about 8:20 we were still slipping severely behind schedule by lunchtime. An adjustment of game time down to 23 minutes resulted in the day finishing with about 10 minutes to spare, helped by a desperate effort by the manager and his wife and playing partner in their penultimate game, which they managed to finish quickly +13.

The event was won (again) by the established team of Jeff Race & Bryan Saddington. They really have both strokes and tactics absolutely right for the indoor game: Jeff hits very straight and Bryan hits very crooked, with some phenomenal cut-rushes and angled hoops that only he would contemplate; they complement each other perfectly. Second was newcomer club Bygrave, with wise owl Duncan Hector guiding beginner Peter Whiting to some splendid wins, including the only victory of the day over Jeff and Bryan. I am sure we will see more of this pair.

All in all, another enjoyable day. The Alternate Stroke format is now firmly established at Soham. We just need to do some hard thinking about squeezing the games into the restricted time on Sunday . . .
Names
Team
Game
Points
Wins
within
Time
Rank
Jeff Race & Bryan Saddington
Hunstanton 1
5
1
Duncan Hector & Peter Whiting
Bygrave
4
4
2
Colin & Georgeen Hemming
Colchester
4
2
3
Peter Allnutt & Ann Brookes
Ipchester
3½
4
Nick Steiner & David Kitson
St. Alchester
2½
5
Terrey Sparks & Patricia Duke-Cox
Hunstanton 1
1
1
6
David Tutt & David Matthews
Letchworth
1
1
7
[6th & 7th places decided by Who Beat Whom]
Colin Hemming

Manager: Colin Hemming
---
Reports to be provided here during the 2011-12 winter season.