Click on images for an enlargement
This year's tournament was staged at Colchester and originally attracted 16 entries which were equally split into two sections of eight, one playing level and the other handicap. Despite the hot dry weather the lawns were in remarkably good condition, and played well but a tad on the fast side. Both sections played cross-blocks in the first round, and the top two players of each block proceeded to a knock-out semi-final and then final round.
Level Play:
Block A
Block B
Tony Butcher
Southchurch Park
Nick Archer
Watford
Chris Sheen
Colchester
John Skuse
Chelmsford
Simon Riley
Ipswich
Terrey Sparks
Hunstanton
Roger Stroud
Leighton Linslade
Henry Hobbs
Enfield
Due to the effects of cross-blocking the unusual situation arose in that each player in Block A finished the first round on two wins apiece. To determine which two players were to proceed further into the semi-final the manager had to take the best hoop difference to break the deadlock, which turned out to be by Tony Butcher and Chris Sheen. Things were a lot easier in Block B in that Nick Archer and John Skuse, both with three wins, clearly led the field and proceeded to play in the semi-finals.
In the resulting semi's Chris played Tony and managed to win 7/2 whilst Nick Archer saw off John Skuse 7/4. In the following final in front of an appreciative crowd enjoying tea, Nick ran out the eventual winner 7/4 after a close and exciting game.
Handicap Play:
Block A
Block B
Patricia Drinkwater
Colchester
Albie Willett
Ipswich
David Dawsey
Chelmsford
David Barnicoat
Enfield
Alan Cornelius
Southchurch Park
Colin Whyles
Sudbury (Unity)
Steve Dennis
Watford
Ian Cumming
stand-in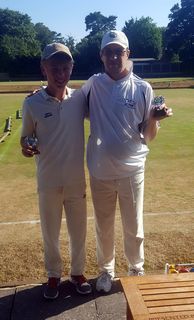 Unfortunately due to a late withdrawal, Ian Cumming of Colchester was good enough to stand as a substitute to make up the numbers on the proviso he could not win the tournament or proceed into the semi-final round. Block A players struggled to win games and Patricia Drinkwater with two wins came top. The remaining three payers, all on one win apiece, had to be decided again by hoop difference and this turned out to be David Dawsey. In Block B Albie Willett was undefeated with four wins and clearly led the block. However, David Barnicoat and Colin Whyles had to be separated by hoop difference and David therefore went forward.
In the following semi-finals David won 7/2 against Patricia to qualify for the final, and in the other semi Albie overcome David also by 7/2 to meet David in the final.
The final which was staged alongside the level play event became a little one sided as Albie stormed round to win 7/2 undefeated on the day.
Our thanks go to Colchester for providing their excellent facilities and refreshments.
Next year due to the growing popularity of this event it might become necessary to revise the format to entertain more entries, possibly splitting into a separate level and handicap event.
Report by Terrey Sparks,
photos by Roger Stroud