Monday 27th June at Hurlingham.
Oxford beat Cambridge 6-3
Click on images for an enlargement
It was once again the time of year when students at Oxford and Cambridge had put their exams behind them and started to focus on the serious business of enjoying themselves in the remaining days of the summer term. For croquet enthusiasts that means another Varsity Match on the immaculate turf at Hurlingham, thanks once again to the generous sponsorship of some members of the Hurlingham club. Unfortunately the original host Hugh Carlisle was absent because of a medical issue, but John Culhane kindly stepped in at short notice to keep the show on the road. The other welcome contribution to the proceedings was the re-appearance of long-time Varsity match referee Richard Hilditch, returning from the Netherlands after an absence of several years.
The nominal start time of 10am has always been a rather flexible one at this event, and this year was no different: it was 10am when the first of the contestants started to arrive at the courts, so play did not actually commence until 10:30. Naturally lunch could not be delayed though (perish the thought!), so play in the morning doubles was time-limited to 2½ hours. The Varsity Match weather was also true to form with a light rain shower in the morning and a rather heavy one in the early afternoon, the latter leaving those without wet-weather gear feeling distinctly damp for a while.
In the morning doubles, on the top court Oxford's Teddy Wilmot-Sitwell set a high standard right from the outset with an inch-perfect cross-court take-off from partner on the east boundary to get an ideal rush to hoop 1 on a Cambridge ball on the west boundary yard line. First blood to Oxford, though with no break available. But he picked up a break not long afterwards, though a tendency to underestimate the pace of the lawn finally led to his undoing after hoop 6 when his take-off went off the north boundary behind 1-back. Soon afterwards it was then Cambridge's Finn Sutcliffe who picked up a 4-ball break, which he maintained under control all the way to 4-back with a diagonal spread. Teddy soon countered with another break to complete his way to 4-back, also with a spread. Meanwhile their partners were struggling to make progress, and with only an hour to go Oxford's Greg Simond was still stuck on hoop 1 and Cambridge's Joseph Steane on 2. This had all the hallmarks of a close contest!
So it proved on the middle court as well. Oxford's Tom Mewes demonstrated an unerring ability to hit any ball anywhere, making his way to 4-back and providing serious opposition to the Cambridge pair of Felix O'Rahilly and Jerome Gasson. But in spite of a few unfortunate misses from time to time, Felix and Jerome both made good progress, so that with an hour to go Cambridge were 2 hoops up.
On the bottom court the contest was more one-sided. After 90 minutes the Cambridge pair of Lachlan Chavasse and Will Yun-Farmbrough had steadily built a healthy lead of 10 hoops, and they maintained their advantage until the end, eventually winning 19-5 when lunchtime terminated play. But it was nip-and-tuck on the top two courts! With only 15 minutes to go Cambridge has a small lead on both, and the enticing prospect of a 3-0 lead at lunchtime. Then with only 10 minutes remaining, on the middle court Tom Mewes progressed to rover to give Oxford a small lead there and reduce the match deficit to 1-2. And then in a dramatic last-turn finale on the top court Teddy W-S ran a long, angled 4-back, then hit a 10-yard return roquet to a make penult, then made rover off a pioneer near 3-back, and finally pegged out his ball for a +1(T) Oxford victory: a fighting late turn-around that left the score 2-1 to Oxford at lunchtime.
With stomachs filled and palates suitably lubricated by the Hurlingham lunch, battle commenced in the afternoon singles. On the top court Teddy made a good early start against his Cambridge opponent Finn, but once again his over-hitting saw him off the lawn when trying to approach a ball near corner IV on the way to hoop 4, enabling Finn to open his score-card with a couple of hoops before Teddy resumed his progress. After a couple of hours of to-and-fro Teddy had reached 3-back with both balls while Finn was still 1 and 1-back. Teddy then made a break to peg; Finn hit with the subsequent lift shot and approached 1-back impressively to 1 yard straight with a huge roll from the middle of the east boundary, picking up a 4-ball break which he took round with the intention of pegging Teddy out; but he failed at penult, conceding contact, and Teddy finished soon after to win +14.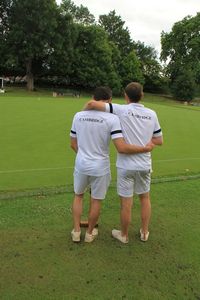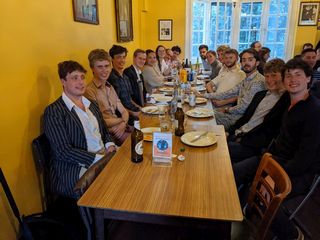 Meanwhile double-banked on the same court, Tom Mewes started to get the better of Felix O'Rahilly with an early break to 4-back. But in due course Felix clawed his way back to level the scores by reaching 4 and 1-back with his two balls, before missing a critical short roquet. Then accurate long-range shooting - centre ball at 15 yards - gave Tom the innings again and he soon took his second ball round to win by a comfortable +15. This left the match score at 4-1 to Oxford, and although Lachlan and Will both put on solid performances on the second court to reduce the deficit to 4-3 for Oxford, the challenge proved too much for Cambridge on the bottom court where the Oxford players Chris Summers and Greg Simond outplayed their respective Cambridge opponents Jerome Gasson and Joseph Steane to win +9(T) and +18.
The final match score was therefore a 6-3 win for a jubilant Oxford, though a closer match than the score might suggest, and the Cambridge team were left with the rueful thought that if the morning session had stopped 15 minutes earlier the final score would have been 5-4 to Cambridge instead. Not that it dampened spirits at the combined dinner held later that evening!
Click on images for an enlargement
| | | |
| --- | --- | --- |
| The Cambridge team | The players | The Oxford team |
Photo gallery

Scores (Oxford names first)

all games Level Advanced

Doubles
Teddy Wilmot-Sitwell (8) & Greg Simond (22) beat Finn Sutcliffe (10) & Joseph Steane
Tom Mewes (14) & Harry Forsyth (16) beat Felix O'Rahilly (10) & Jerome Gasson (22)
Josh Taylor (16) & Chris Summers (16) lost to Lachlan Chavasse (10) & Will Yun-Farmbrough

Singles
Teddy Wilmot-Sitwell (8) beat Finn Sutcliffe (10)
Tom Mewes (14) beat Felix O'Rahilly (10)
Josh Taylor (16) lost to Lachlan Chavasse (10)
Harry Forsyth (16) lost to Will Yun-Farmbrough
Chris Summers (16) beat Jerome Gasson (22)
Greg Simond (22) beat Joseph Steane

+1(T)
+2(T)
-14(T)


+14
+15
-11(T)
-6(T)
+9(T)
+18
Report by Simon Hathrell,
photos by Simon Yun-Farmbrough
See also:
Oxford University Association Croquet Club
Cambridge University Association Croquet Club