---
The Beds & Herts, Essex and Cambs & Norfolk teams that won their individual area leagues qualified to meet in a play-off to determine who would represent the region in the national Secretary's Shield tournament the following year. This year's winners were Wrest Park, Newport and Peterborough, the match to be played at the Newport Club. However, unfortunately due to illness and work commitments Newport were unable to raise a team, so it was to be a two-horse race.
Everyone arrived in good time. It was then that Peterborough revealed that their two star players Ian & Debbie lines were where otherwise engaged on a walking holiday tour so they had to recruit Justin Beaumont, a complete beginner normally playing off 24 but would have to play off 20. There then remained the problem of what format to use as the normal League format allows for a draw which was clearly inappropriate. It was decided by the Manager to use the one doubles, six single format similar to The Mary Rose/Longman Cup but with the doubles pairing in handicap order being 1 and 4 rather than 1 and 2.
Results (Wrest Park names first):
David Marsh (-1) & Tim Brewer (3) lost to Adrian Kirby (-½) & Justin Beaumont (20) -13
John Bevington (1) lost to Stephen Cornelius (8) -26
George Collin (-½) beat Keith Huggins (12) +1t
David Marsh lost to Adrian Kirby -17
George Collin lost to Stephen Cornelius -26
John Bevington beat Keith Huggins +7
Tim Brewer beat Justin Beaumont +13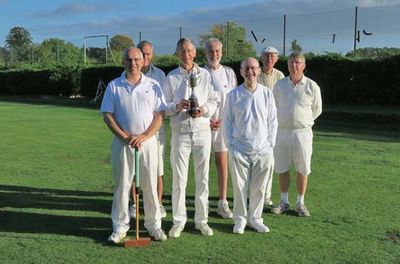 L-R front: Keith Huggins, Adrian Kirby, Stephen Cornelius
rear: David Marsh, Tim Brewer, John Bevington, George Collin
A very close match throughout finishing in a Peterborough win 4-3. Glorious Autumn sunshine, flat lawns and lush but with some bare patches around the edges as a result of the summer drought, with fallen hazel nuts an occasional hazard. Hoops firm and generous. Many thanks to the Newport Committee for letting the Federation host the event and good luck to Peterborough representing the Eastern region in next year's Secretary's Shield.
Teams:
| Peterborough | Wrest Park |
| --- | --- |
| Adrian Kirby (-½) | David Marsh (-1) |
| Stephen Cornelius (8) | George Collin (-½) |
| Keith Huggins (12) | John Bevington (1) |
| Justin Beaumont (20) | Tim Brewer (3) |
Report by Terrey Sparks,
photos by John Bevington
Click on images for an enlargement