Golf Croquet


GC Level Play League results
by year:
2013 MATCH RESULTS - North & Central Area

Winner: Colchester

Results vs.:
Colchester
Hunstanton
Bury
POINTS
GAME
DIFF
PLACE
Colchester
A: 10-8
H: 8-10
H: 9-9
A: 10-8
5
+2
1
Hunstanton
H: 8-10
A: 10-8
A: 5-13
H: 12-6
4
-2
2
Bury St. Edmunds
A: 9-9
H: 8-10
H: 13-5
A: 6-12
3
0
3
Each Team shall play each other twice on a Home & Away Basis. Matches to be arranged by mutual agreement.
Results to be reported by email or phone to the League Manager as soon as possible after each match.

2013 MATCH RESULTS - East & West Area

Winner: Watford

Results vs.:
Watford
Northants
Enfield
Leighton Linslade
Chelmsford
POINTS
GAME
DIFF
PLACE
Watford
10-8
11-7
14-4
15-3
8
+28
1
Northampton
8-10
11-7
15-3
12-6
6
+20
2
Enfield
7-11
7-11
11-7
11-7
4
0
3
Leighton Linslade
4-14
3-15
7-11
15-3
2
-14
4
Chelmsford
3-15
6-12
7-11
3-15
0
-34
5
Venues may be changed by mutual agreement.
Results to be reported by email or phone to the League Manager as soon as possible after each match.
Guideline dates for completing rounds:

| | |
| --- | --- |
| Round 1 | 17 May |
| Round 2 | 13 June |
| Round 3 | 10 July |
| Round 4 | 6 August |
| Round 5 | 1 September |
The Home team should arrange the match.
Contacts:
Hunstanton: Terrey Sparks
Bury St. Edmunds: Jan Oldfield
Colchester: Ann Brookes
Watford: Roger Nicholls
Enfield: Ken Pickett
Chelmsford & Bentley: John Skuse
Leighton Linslade: John Thorp
Northampton: Mike Hills
Key:
Results vs.:
Club A
Club B
Club A
Club A - Club B score
Club A at Home
Club B
Club B - Club A score
Club B Away
The matches shaded yellow are played at home for the team in the left-hand column.
So to read the table easily, (1) find the club in the left-hand column (in bold),
(2) read across to find its scores against each opponent as the first figure given;
(3) read across to find its Home games in yellow and its Away games in white.
2 points for a match win, 1 for a draw. If the overall number of points is tied then
the winner is determined by who-beat-whom, then by the difference in games won,
then by hoop difference.

The final between the two Area winners was played at Newport on Sunday 29th September.

2013
Final
2013
Winners
The GC Level Play
League Trophy

Click on image
for an enlargement

North & Central Area
Colchester
Colchester
10-8
East & West Area
Watford
Final - 29th September 2013
Weather: Overcast and windy early on, with patches of sunshine throughout the day.
Round
Watford
v
Colchester
1
NA
v
CS
7-3
JCa
v
DS
7-3
JS
v
AB
3-7
SD
v
JCo
3-7
2
JS
v
JCo
7-4
SD
v
AB
7-5
NA
v
DS
7-3
JCa
v
CS
2-7
3
NA
v
AB
5-7
JCa
v
JCo
7-2
JS
v
CS
7-6
SD
v
DS
6-7
4
JS
v
DS
6-7
SD
v
CS
5-7
NA
v
JCo
7-2
JCa
v
AB
5-7
Doubles:
NA+SD
v
CS+JCo
6-7
JCa+JS
v
DS+AB
5-7
WINS:
8
-
10
Click on images for an enlargement
Report by Jason Carley,
photos by Terrey Sparks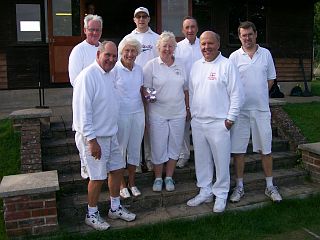 L-R: Back row (Watford):,
John Smallbone, Nick Archer,
Steve Dennis, Jason Carley.
Front row (Colchester):
Dick Strover, Jane Collier,
Ann Brookes, Chris Sheen.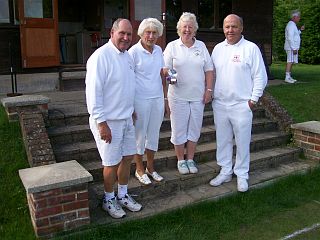 Teams:

| | Watford | | Colchester |
| --- | --- | --- | --- |
| NA | Nick Archer (1) | CS | Chris Sheen (1) |
| JCa | Jason Carley (1) | DS | Dick Strover (1) |
| JS | John Smallbone (3) | AB | Ann Brookes (2) |
| SD | Steve Dennis (2) | JCo | Jane Collier (3) |
Terrey Sparks attended to oversee the proceedings.
After Round 1: 2-2, all four games being scored 7-3; Nick and Jason winning the battle of the one handicaps for Watford and the two ladies Ann and Jane winning for Colchester.
After Round 2: 5-3, Watford take the early advantage.
After Round 3: 7-5, with John beating Chris 7-6 and Ann beating Nick 7-5.
After Round 4: 8-8, Colchester fight back with Ann this time beating Jason 7-5.
On to the Doubles:
Jason & John get ahead 4-2, only for Dick & Ann to fight back and win 7-5.
The other tie is nip and tuck all the way, with Chris & Jane eventual winners 7-6 to seal victory for Colchester 10-8!

The League Manager's "Star Player" award goes to Ann Brookes of Colchester, with runner-up John Smalbone of Watford.
Many thanks to:
Roy Darling and Newport for hosting the event.
Terrey Sparks for travelling from Hunstanton.
---
See also:
GC League score-sheet (

24 kb)
GC Handicap League
GOLF CROQUET LEVEL PLAY LEAGUE RULES – 2013
All games shall be level play and played under The Laws of Golf Croquet (3rd Edition March 2008).
(The trial wrong ball law may be used if both teams agree).
Each team shall consist of four players, not necessarily the same players each match.
No substitutes permitted after a match has started.
No player may play for more than one team in a season.
The start time of the match to be agreed by both team captains.
The match shall consist of 16 single games and 2 double games. Each Team member will play 4 single games and 1 doubles game. Match total 18 points. (Match results to be scored 2 points for a win and 1 point for a draw).
13 point level play games will be played with a 50 minute time limit. If a game is drawn when time is called the players must play one more hoop to determine the winner.
In the result of a tie, then the winner of the Area Group is determined by the Who beat Whom rule; then if still undecided, by the difference in number of games won, and then by hoop difference.
Handicap Cards must be submitted to each Team Captain prior to the start of play. All handicap cards are to be up to date and verified correct by either the Club handicapper or Official C.A. Handicapper.
Any number or size of lawns may be used.
Results are to be notified by each Team Captain to the League Organiser as soon as possible after the match.
All block games not played by the cut-off date of 1st September 2013 shall be declared void and no points awarded.
If a team cancels a match unilaterally less than 5 clear days before a scheduled match that team forfeits its points and the non-offending team shall be awarded the match and 2 points.
In the event of a dispute the League Manager's decision shall be final.
Final Round Play-Off
To arrive at the overall league winner a Final Round will be arranged by the League Manager at a neutral venue and date to be agreed.
If the Final Round is drawn at the end of all games, 3 extra hoops shall be played to determine the overall winner (i.e. best of three). Captains will decide who plays (any two players per team as a doubles pair, unless both captains agree to play singles instead). Once selected the players toss to decide who goes first. Start play from corner 1 and play to and through hoop 3 followed by hoops 4 and 5.
Jason Carley
League Manager
tel: 07825 241712