Golf Croquet
The East Anglian Golf Croquet league is divided into four areas, the Northern, Eastern, Central and Western areas, and the clubs in each area played in an all-play-all block over the course of the season. There are four players per team who play four timed handicap singles against their opposite numbers, plus two handicap doubles – a total of 18 games per match. The results of the matches in each block can be found by following the corresponding links. The four area winners then proceed to a knock-out stage for the semi-finals and finals to determine the overall winner.
The North & Mid vs. Western Area semi-final were played at Newport on Tuesday 17th September, the Central vs. Eastern Area semi-final at Enfield on Friday 6th September, and the final at Leighton Linslade on Tuesday 24th September.
Click on images for an enlargement

GC League play-off results
by year:

Area
2013 Area Winners:
Semi-finalists
2013
Finalists
2013
Winners

The EACF Golf Croquet
League Trophy
Ipswich
Ipswich
9-9, 2-1 (tie-breaker)
Ipswich
9-9, 2-1 (play-off)
Enfield (E)
Enfield (W)
Enfield (E)
11-7
Watford
Final - 24th September 2013
Weather: Early fog, but perfect sunshine from the start of play and throughout the day.
Everyone was made very welcome by Leighton Linslade, and
play commenced.
Round
Enfield
v
Ipswich
1
DFr
v
MF
4-7
DM
v
JW
5-7
DFe
v
CP
7-1
BS
v
PP
7-4
2
DFe
v
PP
2-7
BS
v
CP
7-3
DFr
v
JW
7-6
DM
v
MF
5-7
3
DFr
v
CP
7-5
DM
v
B2
5-7
DFe
v
MF
3-7
BS
v
JW
6-7
4
DFe
v
JW
6-7
BS
v
MF
7-4
DFr
v
PP
7-3
DM
v
CP
7-4
Doubles:
DFr+BS
v
MF+PP
6-7
DM+DFe
v
JW+CP
7-3
WINS:
9
-
9
Play-off:
DFr+DM
v
MF+JW
1-2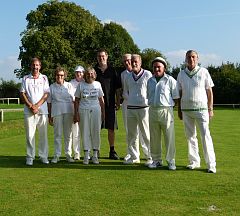 L-R: Martin French, Pam Plumbly,
Jill Waters, Celia Pearce,
Jason Carley,
David Fenner, David Frost,
David Minihane, Brian Stuart
Teams:
Enfield
Ipswich
DFr
David Frost (2) CAPTAIN
MF
Martin French (0) CAPTAIN
DM
David Minihane (5)
JW
Jill Waters (4)
DFe
David Fenner (8)
CP
Celia Pearce (7)
BS
Brian Stuart (10)
PP
Pam Plumbly (10)
(12 playing off 10)
After Round 1: 2-2; David Fenner beats Celia 7-1.
After Round 2: 4-4; Pam beats David Fenner 7-2.
After Round 3: 5-7; all 4 matches are close. Advantage to Ipswich.
After Round 4: 8-8; Enfield fight back - Martin French is beaten for the first and only time in the tournament this season by Brian Stuart 7-4.
On to the Doubles:
Martin & Pam lead 4-1 against David Frost & Brian, whilst Davids Minihane & Fenner lead 5-0 against Jill & Celia.
David Frost & Brian come back strongly to lead Martin & Pam 6-4, whilst Jill & Celia are now 5-3 down. Is the game up for Ipswich?
Martin & Pam hold their nerve winning 7-6 (see picture), whilst Davids Minihane & Fenner finish off Jill & Celia 7-3.
Click on images for an enlargement
It's now 9-9 so they go into a 3 hoop play-off.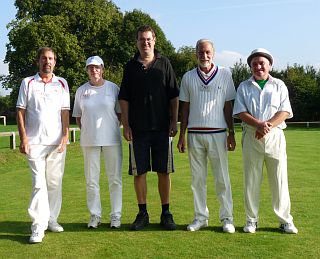 The play-off, L-R: Martin French,
Jill Waters, Jason Carley,
David Frost, David Minihane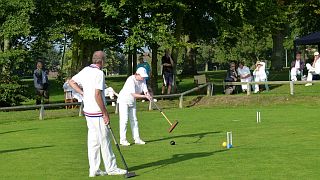 The winning shot by Jill Waters
Play-off: David Frost & David Minihane vs.
Martin French & Jill Waters.
David Frost wins the toss, so plays from corner one up to hoop 3.
Hoop 3: After 5 minutes of play David Frost runs the hoop with a good shot to give Enfield a 1-0 lead.
Hoop 4: Immediately Martin is blocked behind hoop 3 but plays a well weighted shot, finishing 8 feet to the right side and level with hoop 4. Then David Minihane's ball is aimed 2 feet to the left of the hoop and finishes some 10' short. Jill hits her ball hard and true from behind hoop 3 and it goes straight through hoop 4 without touching the sides, off the lawn and into the park to tie the score at 1-1. Game on!
Hoop 5: After several minutes of play with Enfield having a couple of missed shots at the hoop, David Frost tries to knock his blue ball back through the hoop, but it gets stuck half way in the jaws. With Martin's red ball off the lawn and David Minihane's black ball ready in front of the hoop Jill decides to attack the hoop, knocking the blue ball back through the hoop and hers with it (see picture)! Ipswich win!
The League Manager's "Star Player" award goes to Jill Waters of Ipswich, with runner-up Brian Stuart of Enfield.
Many thanks to:
Leighton Linslade for hosting the event. In particular to John Cundell, John Thorpe and David Ball for setting up, and to the scorers Irene Davis (manager), Derrick Haines, Sally Clay, Sheila Guest, Jean Ball, Judith Cundell and Peter Davis.
Martin French and the Ipswich team for travelling to Leighton Linslade so Enfield could field their preferred team.
Report by Jason Carley,
photos by John Cundell and David Ball
---
See also:
GC League score-sheet (

24 kb)
GC Level Play league
GC League play-off results by year:
Previous GC league winners - summary
---
GOLF CROQUET HANDICAP PLAY LEAGUE RULES – 2013
All games shall be handicap and played under The Laws of Golf Croquet (3rd Edition March 2008).
(The trial wrong ball law will NOT be used in the GC Handicap League).
Each team shall consist of four players, not necessarily the same players each match.
Substitutes in matches shall be allowed by prior agreement between the Team Captains.
No player may play for more than one team in a season.
The start time of the match to be agreed by both team captains.
The match shall consist of 16 single games and 2 double games. Each Team member will play 4 single games and 1 doubles game. Match total 18 points. (Match results to be scored 2 points for a win and 1 point for a draw).
For those Clubs with two teams in the same region, the matches between those teams must be played as the first fixture otherwise the result of that game will be void.
13 point handicap games will be played with a 45 minute time limit. If a game is drawn when time is called the players must play one more hoop to determine the winner. Bisques may not be used for this extra hoop.
In the result of a tie, then the winner of the Area Group is determined by the Who beat Whom rule; then, if still undecided, by the difference in number of games won, and then by hoop difference.
Each player shall have a handicap within the range 0 - 10. The total aggregate of the team must not be lower than 20.
Handicap Cards must be submitted to each Team Captain prior to the start of play. All handicap cards are to be up to date and verified correct by either the Club handicapper or Official C.A. Handicapper. (If no handicap card is produced or it is incorrectly completed then that player shall be required to play off a 6 handicap for that match).
Those players who have had a recent handicap reduction within the last 10 days prior to the match shall be permitted to play off their new handicap, even if this reduces the total team aggregate to below that of 20.
Any number or size of lawns may be used.
Results are to be notified by each Team Captain to the League Organiser as soon as possible after the match.
All matches not played by the cut-off date of 1st September 2013 shall be declared void and no points awarded.
If a team cancels a match unilaterally less than 5 clear days before a scheduled match that team forfeits its points and the non-offending team shall be awarded the match and 2 points.
In the event of a dispute the League Manager's decision shall be final.
Semi-Finals & Final Rounds
To arrive at the overall league winner Semi-Finals and a Final Round will be arranged by the League Manager at a neutral venue and date to be agreed.
If a Semi-Final or Final match is drawn at the end of all games, 3 extra hoops shall be played to determine the overall winner (i.e. best of three). Captains will decide who plays (any two players per team as a doubles pair, unless both captains agree to play singles instead). No bisques may be used. Once selected the players toss to decide who goes first. Start play from corner 1 and play to and through hoop 3 followed by hoops 4 and 5.
Jason Carley
League Manager
tel: 07825 241712