Oxford beat Cambridge 9-0
Click on images for an enlargement
Oxford: 2100 vs. Cambridge: 170. Those were the approximate sizes of the entries at this year's Cuppers competitions, so if the size of the selection pool was the main criteria for victory in this year's Varsity Match, played on Monday 10th June at the Hurlingham Club, then Oxford with its astonishingly large Cuppers entry had about a 12 to 1 numerical advantage. But would that be reflected in the performance? On paper it looked like Cambridge were facing a difficult match, since in addition to having two Oxford opponents, William Gee and Harry Fisher, with -1 and 0 handicaps respectively, they also found themselves facing the former Cambridge captain from the 2009 Varsity Match, Joel Taylor, now down to a 3 handicap and further reinforcing the already formidable Oxford squad.
Some moral support was also on hand for both teams from an unexpected quarter. 50 years ago in 1963, in the third croquet Varsity Match ever played, Martin Murray of Cambridge beat Charles Townshend of Oxford +23. (That was a decade when Cambridge regularly had the upper hand.) They kept in touch afterwards, and 50 years on decided to return to Hurlingham to commemorate that encounter with a new one.
The Hurlingham Club kindly obliged with a spare court, and while the youngsters played their doubles games in the 2013 Varsity Match, the Old Guard renewed their 1963 contest in what looked suspiciously like a game of golf croquet, but we won't dwell on that! The outcome was kept quiet too...
Meanwhile the main event started alongside and on time with the traditional 6-a-side format of three doubles games in the morning and six singles in the afternoon, all played to level advanced rules. Under cloudy skies the courts were easy-paced and the hoops fairly generous, ideal conditions for some ambitious play. On the lower court Joel Taylor soon made a break to 4-back, followed not long after by partner Richard Sykes. Cambridge's Douglas Buisson hit the leave, but the Cambridge pair were unable to make more than 3 hoops before Oxford wrapped things up for a +23 win.
On the top court with a TP obviously in mind, Oxford captain William Gee deliberately held himself back while helping partner Martin Lester round to 4-back and limiting the progress of the Cambridge pair of Peter Ford and Renard Mansour. When Will's TP opportunity came he jumped on it, and playing very quickly he soon executed the 4-back peel after running 3, but had a poor hoop 4 pioneer close to the peg. His rush on the hoop 3 escape ball was less than ideal, and the subsequent croquet stroke was also unfortunate enough to leave him almost completely wired by the peg from the pioneer. End of break, and so no TP. However, the end was not long coming with a player of Will's talent on court, and the Oxford pair soon closed out their win +22.
On the middle court things looked rather different. Cambridge captain Peter Willeit managed to establish a break, and all was going well for him until he badly mishit a big croquet stroke after 1-back. (The resulting divot hole was hastily repaired to hide the evidence!) But it was not long before he regained the innings, and proceeded to 4-back and then to rover. By now the Cambridge pair had quite a substantial lead, and time was starting to run out. Oxford's Harry Fisher therefore had to pull out all the stops. In order to regain a +1 lead he had to make a break under pressure all the way to peg while also peeling partner through 3 and 4, a task which he accomplished in style with only 3 minutes left on the clock. Cambridge were unable to recover the deficit in the remaining turns and so Oxford ended +1 winners on time. Score at lunch: 3-0 to Oxford.
Maybe the excellent Hurlingham lunch had something to do with it, but in the afternoon singles William Gee played at an electrifying pace. Rumour had it that he was competing with Harry Fisher for the fastest TP finish. Will's first break went quickly to 4-back with a tidy NSL, and Renard Mansour missed the leave.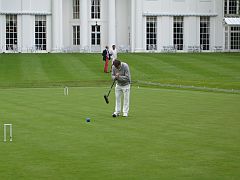 Harry Fisher Will duly embarked on the standard TP and, still playing very quickly, despatched the 4-back peel, approached and ran 4 tidily ... and then completely missed the 1-yard return rush towards corner III! So once again no TP, but he was soon back in again anyway, though only managing to execute one of the remaining two peels on his way to peg. The final hoop and peg-out followed soon after, giving Will the first win of the afternoon +25 in only some 35 minutes of play.
On the middle court Harry Fisher was likewise in pursuit of a TP against Peter Willeit. Harry soon made the first break to 4-back, also with a tidy NSL. Peter missed the leave and Harry's second break followed, with the 4-back peel jawsed and then the penult peel executed in text-book style. Everything looked to be well in hand for the final rover peel until Harry carelessly jammed an escape ball into the wire of rover with the croquet stroke after running penult, thus blocking the way for the peel. So rover had to be peeled posthumously instead, and then cannoned clear for Peter's final lift shot. But with the lift shot missed it was still all over quickly for a +25 win to Harry, and for Oxford's fifth win to clinch the overall match.
| | | |
| --- | --- | --- |
| Joel Taylor lining up... | ...peeling rover... | ...and pegging out +26tp |
Meanwhile on the lower court Joel Taylor was also busy with a TP attempt against Douglas Buisson. 4-back and penult were successfully peeled early, but the attempted early rover peel on the way to 3-back hit the wire and rejected. No matter, a straight rover peel was still an option. This time there was to be no mistake, and Joel carefully executed and completed the peel to clinch Oxford's 6th win with an emphatic +26tp. Perhaps Joel had a particular sense of satisfaction recalling his loss to an Oxford TP when playing for Cambridge in the 2009 Varsity match.
The remaining three games all went Oxford's way as well and finished soon afterwards, with Richard Sykes beating Tom Eccles +18, Jamie Morrison beating Cesar Miranda-Reyes +18 and Jamie Townsend beating Peter Ford +26, leaving Oxford the convincing 9-0 winners of the match.
Click on images for an enlargement
The trophy was presented to Oxford by match referee Richard Hilditch. The 50th anniversary pair of Martin Murray and Charles Townshend then also each presented a special award to the most promising beginners in the Cambridge and Oxford teams, respectively Renard Mansour and Jamie Morrison.
Perhaps the most interesting revelation of the day was the news that William Gee will be starting a new postgraduate course later this year... at Cambridge. So things could get quite interesting in next year's match!
| | | | |
| --- | --- | --- | --- |
| The Oxford team | William Gee receiving the trophy | The referee and players | The Cambridge team |
Photo gallery

Scores (Oxford names first, with handicaps where known)
Oxford beat Cambridge 9-0


Doubles
William Gee (-1) & Martin Lester (10) vs. Peter Ford & Renard Mansour
Harry Fisher (0) & Jordan Waters (14) vs. Peter Willeit & Cesar Miranda-Reyes
Joel Taylor (3) & Richard Sykes (5) vs. Tom Eccles & Douglas Buisson

Singles
William Gee (-1) vs. Renard Mansour
Harry Fisher (0) vs. Peter Willeit
Joel Taylor (3) vs. Douglas Buisson
Richard Sykes (5) vs. Tom Eccles
Jamie Morrison (14) vs. Cesar Miranda-Reyes
Jamie Townsend (16) vs. Peter Ford


+22
+1(T)
+23


+25
+25
+26tp
+18
+18
+26
See also:
Oxford University Association Croquet Club
Cambridge University Association Croquet Club
Report and photos by Simon Hathrell