Association Croquet

Hunstanton - Saturday 28th September 2013
Manager: Terrey Sparks
Area League
2013 winners
2013 Play-off winners

The Chairman's Cup
Click for enlargement
League tables:
St. Albans
Bury St. Edmunds
Peterborough
St. Albans
3-0, 3-0


See also:


AC League play-off results by year:


Previous AC league winners - summary
---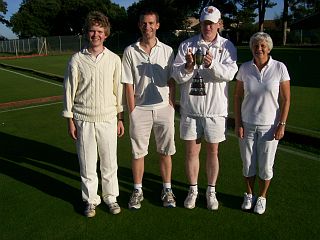 The St. Albans winners, L-R: Thomas Cullis,
Jon Palin, Chris Frost, Heather Bennett
Click on image for an enlargement
St. Albans won the Chairman's Cup.
The winners of the regions three AC leagues comprising Bury St. Edmunds (Essex/Suffolk), Peterborough (Norfolk/Cambs) and St. Albans (Beds/Herts) met at the Hunstanton Club on Saturday 28th September to decide who would be declared the overall winners of the Chairman's Cup in a format comprising four players in which each team played two doubles and four single games.
In the morning session which comprised solely of doubles play, St. Albans set a set a brisk pace winning both their games with Peterborough close on their heels with one win. In the afternoon St. Albans maintained their good form maintaining their 100% record by again winning all their games, running out the undisputed league champions with Peterborough running in second place with 3 game wins.
Therefore St. Albans will go forward to represent the Eastern Region in the Secretary's Shield Competition for 2014.
Teams:

| | |
| --- | --- |
| St. Albans | Jon Palin (2½), Chris Frost (6), Thomas Cullis (12), Heather Bennett (14) |
| Bury St. Edmunds | Tony Harvey (5), John Robinette (7), Edmé Robinette (14), Justin Blick-James (16) |
| Peterborough | Terrey Sparks (1), Adrian Kirby (1), Mike Bowser (3½), Keith Huggins (8) |
Report and photo by Terrey Sparks
---
Area League Play-Off for the Chairman's Cup
Regulations
The winning team from each Area, 1 (Beds & Herts.), 2 (Essex & Suffolk) and 3 (Norfolk & Cambs.), will meet to determine the overall EACF league championship.

The format will be normal handicap games of 26pts, doubles in the morning and single games in the afternoon. Singles games will be double-banked and the duration of each game will be 3¼ hours.

am:
A1,A3 v B2,B4
B1,B3 v C2,C4
C1,C3 v A2,A4
pm:
A1 v C2
A3 v C4
B1 v A2
B3 v A4
C1 v B2
C3 v B4


A draw will take place in the morning to determine which teams will be designated A, B or C.

All teams will comprise of four players (no handicap restriction).
The Team Captain is to list his team in handicap order before the start of play and hand it to the manager. (If two or more players have the same handicap they can be listed per that teams preference.)
The overall winner will be the team that has won the most games. However,

If no winner can be determined then the who beat whom rule will apply. However,
If still no winner can be determined then the team with the fewest wins on time will be the winner.
If the contest is still undecided, then a peg shoot-out will be arranged by the Manager to determine the winner.

The overall winner of the play-off will be presented with the 'Chairmans Cup' to be held for one year and will go forward to represent the Eastern Region in the Secretary's Shield for the next year.
Terrey Sparks
Manager