This year, staged at the Watford Club, the Club Champions Tournament attracted 12 entries split into two blocks of six, one block level play and the other handicap. Because of the disappointing low level of entries the format for both categories comprised blocks of 3 which were cross-blocked. Each round consisted of two games which attracted 1 point per win, with the top two going through into a knock-out stage. Despite an adverse weather forecast the weather remained dry and warm although a little overcast.
Level Play:
Block A
Block B
Chris Sheen (-2)
Colchester
Simon Hathrell (-1)
Watford
David Ball (3)
Leighton Linslade
Henry Hobbs (3)
Enfield
David Boxell (4)
Hunstanton
Henry Addison-Atkinson (6)
Newport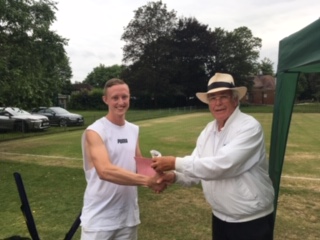 Level Play winner
Henry Addison-Atkinson
After the completion of the first round of some entertaining Golf Croquet and with the number of wins split evenly at 9 between each block, the position was Chris Sheen the Block A winner at 4 wins, David Ball second on 3 wins and David Boxell third on 2 wins; whilst in Block B the situation was more difficult, as all three participants stood on 3 wins apiece. This meant that the manager had to compare hoop difference to determine the group winners. This turned out to be Simon Hathrell on +7, and newcomer to the scene Henry Addison-Atkinson playing in his first tournament on +1 narrowly leading Henry Hobbs on 0.
In the resulting semi-finals Chris Sheen beat David Ball 7-4 and Simon Hathrell fell 5-7 to Henry Addison-Atkinson in a close battle.
If the semi-final was a surprise, the final between Chris and Henry turned out to be a real nail biter going to the final 13th hoop. Henry had the choice of a hoop clearance or to take on a difficult 2 yard hoop which if it failed left Chris with quite an easy hoop. Showing the confidence of youth and no fear Henry produced the perfect shot to run the hoop and win the day and also earn a reduction in his handicap from 6 to 3.
Handicap Play:
Block A
Block B
Ross Bagni (1)
Wrest Park
Jean Ball (4)
Leighton Linslade
Andrew Fall (4)
Enfield
Roy Darling (5)
Newport
John Suckling (10)
Watford
Susan Boxell (14)
Hunstanton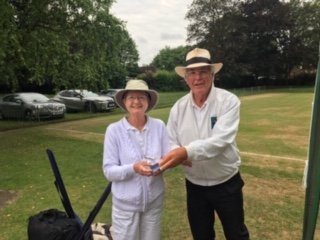 Handicap winner Jean Ball
After the completion of the first round in Block A, John Suckling stood undefeated winner on 6 wins, with both Ross Bagni and Andrew Fall equal on 2 wins each. However, Ross was declared in second place having the better hoop difference of +5 to Andrew's -5. In Block B Susan Boxell ended clear winner on 4 wins with Jean Ball second on 3 wins and Roy Darling third on 2 wins.
In the resulting semi-finals John Suckling continued his winning streak beating Ross Bagni 7-3, whilst Jean Ball won 7-3in her game against Susan Boxell.
In the resulting final between John Suckling and Jean Ball, John suffered his first loss of the day being beaten by Jean Ball 7-5 to take away the handicap trophy. Incidentally, Jean is the first lady winner of the trophy since the event was first introduced in 2012.
Also thanks go to the Watford Club for permitting the EACF the use of their lawns and providing refreshments, the first time a Federation event has been staged there due to the introduction of their fourth lawn.
Report by Terrey Sparks,
photos by Ross Bagni