Click on images for an enlargement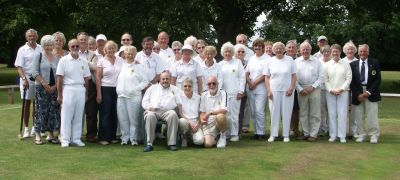 A sizeable contingent of LLCC's 60+ membership together
with founder members and Chairman Patricia Duke-Cox
Tuesday 14th July at Page's Park, Leighton Buzzard, was the time and venue for the Leighton-Linslade Croquet Club's 10th Anniversary Celebrations. After sterling work by a number of members to erect a marquee whilst dodging the morning rainstorm, at 12.30am the Chairman of The Croquet Association, Patricia Duke-Cox, and her colleague, Roy Ware, were entertained to a light lunch by the club's committee and Chairmen since the club's inauguration in 2000.
At 2.00pm club members arrived, all smartly dressed in whites, together with a number of founder members that are no longer with the club. Patricia Duke-Cox gave a short talk of congratulations for the achievements of the club's first ten years, and in particular thanked Margaret Brown, who was the main inspiration leading to the foundation of the club, and who lead and guided progress through the decade. Patricia mentioned Margaret's "The First Ten Years" booklet recently published, an account of the formation and development of the club, of which a copy has been placed in The Croquet Association archives. She then outlined her duties as Chairman of The Croquet Association and the benefits of individual subscription, and that she would like to see younger people become more involved with our sport. She finished by trusting that the club would further develop and that more members might be encouraged into taking part in events and competitions further afield.

Patricia Duke-Cox discusses a
point with LLCC Chairman Tom
Miller and Margaret Brown who
was the leading light behind the
foundation of the club in 2000


Present Chairman Tom Miller
cuts the cake, watched at
left by Margaret Brown


Patricia Duke-Cox with the
young winners of Leighton
Middle School's croquet
tournament – Matthew
Smith and Jack Gammage
A group photograph was taken, following which Patricia and her colleague Roy Ware, were then invited to play two demonstration singles matches against two club members whose names were drawn - one of the lucky players was Margaret Brown - entirely fortuitous and there was no fix!
After this came the cutting of a fine cake, decorated with the club logo, by present Chairman Tom Miller, plus refreshments. Finally at 4.00pm, 14 boys and girls arrived from Leighton Middle School to play their school croquet tournament. LLCC has been fostering croquet at the school for a number of years now and it was encouraging to see the enthusiasm and skill applied. After 90 minutes play the winners were two lads from Year 7, and Patricia Duke-Cox presented them with medallions.
An excellent day that was a fitting celebration to the first ten years. In the words of Margaret Brown, "the club looks forward to further encouragement of a sport which offers exercise, enjoyment, competition, challenge and comradeship."
John Cundell