Association Croquet

Golf Croquet

Click on images for an enlargement

Soham by season:
---
March 12-13 2011 - Indoor Golf Croquet
After much emailing and arm-twisting, the golf croquet weekend took off, but only with six of the preferred seven teams in the Saturday level play event. Players from Letchworth, St. Albans and Hunstanton joined together to form the teams of St. Alworth and Hun-let, both strong combinations. Three teams from Bury St. Edmunds helped to provide the rest of the competition. The St. Alworth team of Duncan Hector & Terry Mahoney soon got the measure of the carpet and triumphed in three of the five games played, ending in equal second place with David Crawford & Edme Robinette from Bury St. Edmunds. However Team Race from Hunstanton took the trophy after a fine display of perfect positioning and amazingly angled jump shots.

Sunday attracted the teams preferring the handicapped event, with Leighton Linslade, Hunstanton, Stony Stratford and Newport playing focused and competitively initially, resulting in close scores in games. The Stratford teams started to edge in front after lunch, carefully and confidently using extra turns to their advantage. But Newport refused to be defeated, keeping throughout the hoops scored against them to a minimum and losing only one game. So it was Clive Cassidy and Bob Leeds of Newport who emerged as the winners at the end of the day.

Manager: Chris Howell
---
February 12-13 2011 - Indoor Association Croquet
Another fun packed weekend was spent at Soham. Eight teams played on each day under the expert management of Colin Hemming. On Saturday the format was different...Alternate shots!
Saturday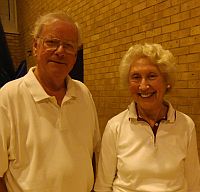 Duncan Hector & Jane Collier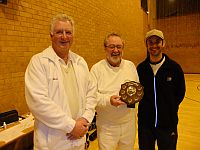 Saturday Winners
Keith Rhodes & Nick Mounfield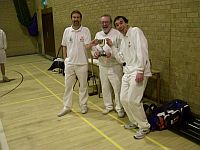 Sunday winners
Martin French & Phil Eardley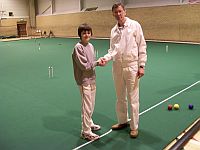 Sunday runners-up
Joe Iddison & Adrian Kirby
Colin has always been a keen advocate of alternate shots and Saturday's event was the first time this format was played at Soham. At the end of the gruelling contest he took the views of players and all agreed that it was a good leveller of play and thoroughly enjoyed the day. There was a good mixture of handicaps ranging from Jonathan Hills playing off -1½ to Mark Lewis (playing his second tournament ever, the first being last month at Soham) playing off 24, reduced to 18 for the day. It's difficult to pick out any one instance for special mention, there were so many, but I'm pleased to say that Jane had one of her best tournaments, gently coxed and coached by the expert attention from her partner, Duncan. Perhaps another reason to play alternate shots. A very close contest, the three top teams all losing one game out of 5. However, both Colchester 1 and Letchester had one win on time, so Letchworth were therefore pronounced the winners.

Name
Club
Soham
Handicap
Points
Wins
in Time
Rank
Nick Mounfield & Keith Rhodes
Letchworth
1
4
4
1
Jonathan Hills & Nick Steiner
Colchester1
2 Peels
4
3(10)
2
Duncan Hector & Jane Collier
Letchester
1
4
3(9)
3
Terry Mahoney & Mark Lewis
St. Albans
3
2½
4
Jeff Race & Tim Race
Hunstanton
1½
2
5
Nick Harris & Neil Chalmers
Norwich
0
1
0(15)
6
Colin Hemming & Georgeen Hemming
Colchester2
2½
1
0(12)
7
Chris van Essen & Alec Osborne
Meldreth
2½
½
8
(In brackets quality of opponents)
Sunday
Back to the normal format.
Another fun packed day was had by all. As I walked into the hall and greeted Martin French, who with his partner Phil Eardley, I said, "Gosh. Three peels. That might be tricky!" "We've changed our tactics." replied Martin, and went on to win the tournament with five straight wins. Not an easy feat considering the time was reduced from 25 to 21 minutes due to the lack of time towards the end of the contest. Close in contention were Peterborough. Joe Iddison aged twelve playing off 24, (reduced to 18) played brilliantly under the tutelage of Adrian Kirby and they would have won, were it not for the bullies from Hunstanton 2 who shall remain nameless. No doubt we'll see more of Joe in the future. Many games were very close and hard-fought. Hence the lack of time. Altogether a very enjoyable day as can be seen from the facial expressions of Martin, Colin, and Phil. Instance for special mention? It has to be me missing the peg out from less than a foot! Nonchalantly strolling off the court playing the last stroke with one hand....Whoops.

Name
Club
Soham
Handicap
Points
Wins
in Time
Rank
Martin French & Phil Eardley
Ipswich
3 Peels
5
1
Adrian Kirby & Joe Iddison
Peterborough
3
4
2
Steve Woolnough & Nick Steiner
Colchester1
1 Peel
3
3
3
Terrey Sparks & Bryan Saddington
Hunstanton1
½
3
0
4
Colin Hemming & Georgeen Hemming
Colchester2
2½
2½
5
Mike Percival & Peter Allnutt
Burywich
1
1½
6
Mike Bowser & Patricia Duke-Cox
Hunstanton2
2½
½
0(17½)
7
David Clancey & Peter Ross
Letchworth
4
½
0(16)
8
(In brackets quality of opponents)
Report by Nick Steiner, photos by Duncan Hector and Terrey Sparks
Manager:
Colin Hemming
---
January 15-16 2011 - Indoor Association Croquet
Saturday
Colin Hemming introduced a new format for today: 10 doubles teams playing two blocks of 5. This meant that each team played 4 games instead of the usual 5. It was a brave and innovative idea. With 20 players there is always someone to chat to and we usually didn't have to play two games back to back. Some had a very late start (our first game was at 11.50) others an early finish. But all in all it seems popular.
The day is dominated by Jeff and Tim Race from Hunstanton who are sweeping all before them. Hitherto I (and others) have muttered about Tim's handicap of 10 but it has been tested in tournament conditions so nobody can complain. Today I have been watching them and my conclusion is that Jeff is the problem. He has developed a very clever strategy that disrupts his opponent's play and I think I have cracked it! More of that tomorrow when I discover whether I can adopt his methods.
Five times World Champion Robert Fulford is partnering his wife Susan (handicap 24). They are penalised 2½ minutes and their opponents given 2½ minutes extra. This seems a gargantuan penalty especially as Robert rarely covers the court at more than a stroll and when Susan is playing he patiently coaches her as if there were 2 hours on the clock. Robert needs Susan to run 4 hoops and he is then able to go round doing 2 peels on the way (he is not permitted to do more). They lost their first game to Letchworth 1 but not without a struggle. This game featured a fantastic shot from Rob who having been timed out, wired from the opponents and dead on all balls managed to hit the opponents dolly rush with a scatter shot in which his ball ricocheted off his partner's ball with force – his ball then sped a laser guided 11 yards and destroyed a beautiful rush. It wasn't even a double target. This wasn't enough to save the game but he and Susan have won their block but have just lost the final to Block 1 winners – the Races.
Letchworth 1 and Letchworth 2 contrived to come second in each block. The most penalised team of the day was Jack Wicks and Jonathan Hills who had 3 peels and 2½ minutes time penalty. They did win half their games so perhaps the handicap system was working well.
I really enjoyed the day and there is a great camaraderie at Soham. As I leave to go home I have two new strategies in mind for tomorrow that I have learnt today. Colin H again did a wonderful job in thinking up this new format and running such an enjoyable day.
Name
Club
Soham
Handicap
Points
Rank
BLOCK 1
Jeff Race & Tim Race
Hunstanton
1½
4
1
Duncan Hector & Jeremy Scott
Letchworth 2
0
3
2
Jonathan Toye & David Haslam
Downchester
2½
2
3
Colin & Georgeen Hemming
Colchester 2
2½
1
4
Robert Skeen & Alec Osborne
Meldreth
3½
0
5

BLOCK 2
Robert & Susan Fulford
Colchester 1
-2½ mins
3
1
David Clancey and Peter Ross
Letchworth 1
4
3
2
Jack Wicks & Jonathan Hills
Colchester 3
3 peels -2½ mins
2
3
Chris Frost & Jon Palin
St Albans
2
1
4
Neil Chalmers & Jeremy Kitchener
Norwich
3½
1
5


FINAL: Hunstanton beat Colchester 1 +6
Sunday
Ann Brookes and Jane Collier
Today we are back to the 8 team format and there are 5 games to play and we have a fresh bunch of people some of whom haven't played indoors before and others that haven't played indoors for over 10 years. On the drive to Soham Nick and I have discussed the new strategies that I was thinking about yesterday. We didn't have too good a start because we kept wasting time separating oppos and not making anything from the position. We scraped through our first game with a ubiquitous +1 on time against an in-form Terrey Sparks and a steady Nick Harris.
Again Hunstanton swept all before them but this time Jeff is partnered by Bryan Saddington who before the game announces that he is playing rubbish and then plays brilliantly. St Albans gave them a run for their money and Letchworth (Nick and I) very, very, very nearly beat them. All I had to do was a straight Rover peel and a peg out to win. The peel worked but in such a way that I couldn't run from my position dead in front but an inch from the peelee. Ah well, at least we got near to beating them and we ended up in 2nd place so I think the new strategies have promise.
Martin French
Martin French and Philip Eardley had the huge penalty of 3 peels which they didn't manage to conquer. Jim Potter did well to get a series of close results with GC player Roy Darling who has hardly played AC before. Terry Mahoney again showed how well he can play with anyone. He coached Mark Lewis (24) so calmly and quietly and got 3 wins which was an excellent result. Colchester's ladies Jane and Ann lost their games but brought a lot of fun and elegance to the day. Burywich are always a threat. Mike and Peter have played as partners here for as long as I can remember. Mike has a deadly accurate hoop run with a sort of top spin follow through and I can't remember seeing him blob. Peter's hoop run uses the "click your heels together" technique as he hits the ball. Both these methods seem to work so maybe there is room for a hybrid version to be born!
Soham is getting very popular and was oversubscribed so Colin Hemming withdrew his name from the hat and was the non playing Manger for the day. He really does work hard at this, much of the work is done during the preceding few weeks. But he isn't letting anything stagnate and is developing new ideas and formats to tantalise us at some time in the future. So Colin, congratulations on a brilliant weekend and heartfelt thanks from all the participants.
Name
Club
Soham
Handicap
Points
Rank
Jeff Race & Bryan Saddington
Hunstanton
0
5
1
Duncan Hector & Nick Mounfield
Letchworth
2 peels
4
2
Terry Mahoney & Mark Lewis
St Albans
3
3
3
Mike Percival & Peter Allnutt
Burywich
1
3
4
Nick Harris & Terrey Sparks
Norwich
1 peel
3
5
Martin French & Philip Eardley
Ipswich
3 peels
1½
6
Jim Potter & Roy Darling
Newport
3½
½
7
Jane Collier and Ann Brookes
Colchester
4
0
8
Report and photos by Duncan Hector

Manager: Colin Hemming
---
December 11-12 2010 - Indoor Association Croquet
After the disappointment of the cancellation of the October Tournaments thanks to a Health & Safety imposed carpet handling embargo, it was a relief that a weather window opened up to allow the December events to go ahead as planned.
On Saturday, 16 individuals rather than 8 teams of 2 turned out to try the new 'all change' format in which you play with a different partner in each of your allotted 5 games. Careful programming ensured that an individual only ever played in consecutive games once and similarly only had to sit out 2 consecutive games once. Eating was therefore practical, thought possibly at an unusual hour! Although not playing more than once with the same partner, the programme as devised did not avoid some players playing the same opponent on several occasions. Colin is working on this!
The entry was divided into 2 blocks, lower handicaps (5 and below) and higher handicaps (6 and above). Teams involved a player from each block. After 5 rounds the standings in each block were:

Saturday's winners,
Tim Race (L) and Terrey Sparks (R)
Lower Handicap Block
Higher Handicap Block
Name
Club
Game
Points
Name
Club
Game
Points
Terrey Sparks
Norwich
5
Tim Race
Hunstanton
5 (5)
Jonathan Hills
Colchester
3½ (2)
Keith Harker
Letchworth
5 (3)
Colin Hemming
Colchester
3½ (1)
Ann Brookes
Colchester
4
Duncan Hector
Letchworth
3
John Robinette
Bury
3
Terry Mahoney
St. Albans
2 (2)=!
Robert Skeen
Meldreth
1½
Nick Steiner
Colchester
2 (2)=!
Jane Collier
Colchester
1
Jeff Race
Hunstanton
1
Georgeen Hemming
Colchester
½
Neil Chalmers
Norwich
0
Jonathan Toye
Downham
0
(Numbers in brackets indicate the number of games won within time where relevant.)

Terrey Sparks and Tim Race, a formidable pairing, therefore took on Jonathan Hills and Keith Harker in a final and ran out winners by +4 in a finely contested game. The winners each took home one of the pair of Martin Trophies donated some years ago by Claire Heritage. In his few words of thanks Terrey managed to mention that he had not played with his usual partner of 10 years on this occasion which could explain his success! Was he trying to tell me something?
Sunday reverted to the long-established conventional Club-based format although two composite teams were included. 8 teams took part, each playing 5 games. Colin made a point of welcoming back Phil Eardley who hadn't played for some time as well as first-timer Jeremy Kitchener, a founding member at Norwich in the early 1980s returning after a long absence. A very warm welcome was also extended to Rob and Susan Fulford. This was Susan's introduction to the carpet and a potentially formidable future partnership soon became apparent. I wonder when Rob last played with bisques!
Results:
Club
Team
Game
Points

Sunday's winners,
Terry Mahoney (L) and Phil Eardley (R)
St. Alswich
Terry Mahoney & Phil Eardley
5
Burywich
Mike Percival and Peter Allnutt
3 (3)
Letchworth
Duncan Hector and Nick Mounfield
3 (2)
Hunstanton
Jeff Race and Byan Saddington
2½ (2)=!
Colchester 3
Colin and Georgeen Hemming
2½ (2)=!
Colchester 2
Nick Steiner and Jane Collier
2 (2)=!
Colchester 1
Robert and Susan Fulford
2 (2)=!
Norwich
Neil Chalmers and Jeremy Kitchener
0

Terry and Phil therefore took home the Belgian Cup to remind them of their shared triumph. I wonder how they will decide who has to look after it till next year!

N.B. Exclamation marks on both days indicate a reluctance to try to calculate the relevant order!

Report and photos by Neil Chalmers

Manager: Colin Hemming
---
November 13-14 2010 - Indoor Golf Croquet
The golf croquet on Saturday was level play. Competition was keen yet cautious in the early rounds, five teams registering drawn games. These included Letchworth, L. Linslade, Hunstanton and Bury/Ipswich. Post lunch all teams recorded wins having mastered the pace of the carpet and improved their accuracy when running hoops. The Bury St Edmunds/Ipswich pair, Michael Percival and Peter Allnutt were challenging the Hunstanton team of Jeff and Timothy Race for the number one position, unfortunately Michael and Peter recorded a second drawn game and finished as runners-up.

The atmosphere for Sunday's handicapped play was calmer. Teams carefully weighing up their opponents strengths & weaknesses, selecting when to gain advantage from extra turns. Newport, L. Linslade and Downham Market gained early points but it was the Downham team of David and Heather Mainwaring who proved to be the most consistent, winning the day.

Manager: Chris Howell
---
October 16-17 2010 - Indoor Association Croquet
The session unfortunately had to be cancelled at the last moment because a Health & Safety inspection advised that special lifting equipment should be used to move the large carpets which have to be laid each weekend in which croquet is played. Options are currently being investigated with the hope that this problem will be resolved in time for the next croquet weekend in November.

Manager: Colin Hemming