Club News will appear on this page along with EACF News.
Click on images for an enlargement
---
---
| | | | |
| --- | --- | --- | --- |
| December 2010 | Wrest Park | Newsletter ( 1144 kb) | John Bevington |
---
| | | | |
| --- | --- | --- | --- |
| October 2010 | Wrest Park | Newsletter ( 817 kb) | John Bevington |
---
| | | | |
| --- | --- | --- | --- |
| October 2010 | Leighton Linslade | Newsletter ( 2430 kb) | John Cundell |
---
---
| | | |
| --- | --- | --- |
| October 2-3 2010 | Wrest Park | Longman Cup |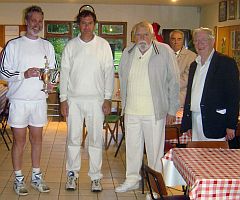 Playing at Surbiton over the weekend of 2-3 October, Wrest Park won the 2010 Longman Cup by beating Bury 5-2 in the Semi-Finals and then Guildford & Godalming 6-1 in the Final.

Details of the Semi-Finals & Final can be found on the Wrest Park website. A summary highlighting the results of EACF member clubs in the competition can be found on the EACF National Club competitions page, and full competition results for all clubs on the CA website.

The winning team from the Finals,
L-R: Tim Brewer, David Marsh, Cliff Hayes & David Morris.
Background: CA President Quiller Barrett.
Photo by John Bevington
---
| | | | |
| --- | --- | --- | --- |
| September 2010 | Wrest Park | Newsletter ( 1081 kb) | John Bevington |
---
| | | |
| --- | --- | --- |
| August 28-31 2010 | Hunstanton | 111th Annual Tournament |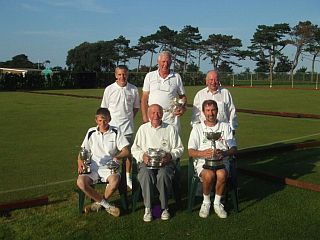 Back row: David Thirtle-Watts (Chairman),
Neil Chalmers, Martin Kolbuszewski.
Front row: Timothy Race,
George Woolhouse, Martin French
Results of the Hunstanton 4 day Annual Tournament are as follows:-
Block A: (Norfolk County Croquet Challenge Cup)
Winner:

Martin French

R/U:

George Noble
Block B: (Hunstanton Challenge Bowl)
Winner:

George Woolhouse

R/U:

Colin Hemming
Block C: (The Silver Bowl)
Winner:

Neil Chalmers

R/U:

Chris Donavan
Block D: (The Perberdy Lee Trophy)
Winner:

Timothy Race
(via a shoot out against Georgeen Hemmimg & Martin Kolbuszewski)
Egyptian: (Hunstanton Croquet Challenge Cup)
Winner:

Timothy Race

R/U (The Rothwell Trophy):

Martin Kolbuszewski
Change of Handicap:
Neil Chalmers:

7 to 5

Timothy Race:

12 to 10

Martin Kolbuszewski:

10 to 9

Malcolm O'Connell:

3½ to 4
Terrey Sparks
---
---
---
---
| | | | |
| --- | --- | --- | --- |
| July 2010 | Wrest Park | Newsletter ( 779 kb) | John Bevington |
---
---
---
---
| | | |
| --- | --- | --- |
| July 3-4 2010 | Norwich | Chalkhill Handicap Tournament |
For something a little different, we'll start this tournament report off with a little quiz. Which is the odd one out from the following list?
a. A Mad Moose
b. A Demented Deer
c. A Crazy Caribou
No need to send your answers on a postcard, nor indeed to enter them on a website together with a credit card number and your inside leg measurement - just read on and the answer will be revealed to you.
The sun shone brightly on the Croquet Lawns in Norwich's Eaton Park, but metaphorical storm clouds have been gathering for some time over Norwich City Council's "Green Spaces Team" (yes: I've checked on the web-site and it really is called that). The problem, of course, is the recession, and "the cuts" which must be imposed on us all. Which means that Norwich Croquet Club is perfectly entitled to carry on using the lawns in Eaton Park, provided it can find the £4000 per lawn it costs to keep them maintained. To do so would mean quadrupling or even quintupling the subscription, but since doubling it to keep going just for this year has already provoked howls of protest from the membership and it seems that the parting of the ways may not be far off.
So the sun this year was shining on only two croquet lawns; the third one (only restored to use two or three years ago after a long period of decay) already becoming overgrown, but not so much that we could not see what it had been, and so rather mocking us by its mere presence.
The format of the tournament was Egyptian. Manager Neil Chalmers had wisely restricted the entry to a mere 8 players. The players came from as far away as Huddersfield and Nailsea, but were chiefly East-of-England regulars, though including one newcomer from that region (David Marsh of Wrest Park). The lawns, which started fast and became faster still (particularly around hoop 3 on lawn 2), did not help the players to finish their games quickly (though over the weekend very few went to time). Everyone played the first two games, but two of our number declined to play the third game after tea and the day finished with David Marsh and "Our Man in the North" Malcolm Daines sharing the lead on 123 points.
Of course, the finish of the day is only the start of the evening, and manager Neil Chalmers, seemingly unable to find anywhere with "Deer" or "Caribou" in its name, guided a select group of us to a superb gastro-pub called the Mad Moose. A splendid meal made up for the disappointments that some of us had experienced during the day.
Sunday was another day of course. Another Sunny day. Only two games for everyone, and the second of those the Dickens of a job to arrange with only eight players, as I can attest from personal experience. Neil had one further obstacle to overcome, in trying to avoid a contest between man and wife (me and Georgeen), but cruised through the task with consummate ease.
The first round pitted the two overnight leaders against each other. David dismissed Malcolm +24 and followed that in the afternoon with a convincing win of +22 over an in-form Terrey Sparks. This left David as the winner on 142 points, Malcolm second on 118 and Terrey a close third on 114. David was presented with the legendary "Chalkhill Mallet", whisked away as soon as it is awarded, according to tradition, and replaced with a tawdry little plaque (a little more tawdry each year: the cuts you understand) but hopefully his handicap reduction from 12 to 11 made up for it.
I would like to pay a personal tribute to Neil Chalmers, who has worked tirelessly to keep Norwich Croquet club going in the face of much adversity, and sincerely hope that this will not prove to be the last Handicap tournament run by the club at Eaton Park, if only because I want to go back to the Mad Moose again (Oh . . . that was the answer to the quiz, by the way)!
Colin Hemming
---
| | | |
| --- | --- | --- |
| June 18-20 2010 | Hunstanton | Over 50's Tournament |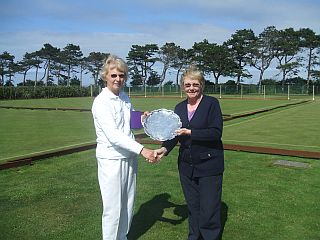 Winner Margaret Anderton (left) receiving
the trophy from Patricia Duke-Cox
Sunny Hunny again lived up to its reputation over the weekend of 18/20th June when, it staged its annual over 50's three day tournament in weather more akin to mid winter in the South Atlantic rather than the Riviera east coast of the UK.
However, regular visitors to the club are made of more doughty spirit and battled through gale force wind and rain for the fist two days before being rewarded on the Monday with a rather unexpected pleasant summer's day.
Despite the weather spirits remained high, and on the final day the Egyptian formula produced three likely winners entering the final session. Nick Steiner (Colchester) looked to be in an unassailable position provided he saw off Bryan Saddington from the home club. However, Nick fell at the last hurdle leaving the field open to the winners of the game between Margaret Anderton (Bury) and Patricia Duke-Cox. Before the match Patricia mentioned to the Manager she had never beaten Margaret in competition, a prophesy that only proved to be too true as Margaret carried off The Jane Neville Rolphe Trophy.
| | |
| --- | --- |
| 1st | Margaret Anderton (Bury) |
| 2nd | Jeff Race (Hunstanton) |
| 3rd | Nick Steiner (Colchester) |
Terrey Sparks (Manager)
---
---
---
| | | | |
| --- | --- | --- | --- |
| June 2010 | Leighton Linslade | Newsletter ( 803 kb) | John Cundell |
---
| | | | |
| --- | --- | --- | --- |
| June 2010 | Wrest Park | Newsletter ( 561 kb) | John Bevington |
---
---
---
---
---
---
---
---
---
---
---
---
---
---
| | | | |
| --- | --- | --- | --- |
| March 2010 | Leighton Linslade | Newsletter ( 159 kb) | John Cundell |
---
| | | | |
| --- | --- | --- | --- |
| February 2010 | Wrest Park | Newsletter ( 370 kb) | John Bevington |
---
February 13-14 2010

January 16-17 2010

Soham
Soham
---
| | | | |
| --- | --- | --- | --- |
| January 2010 | Leighton Linslade | Newsletter ( 277 kb) | John Cundell |
---
News archive
---