Association Croquet

Golf Croquet

Click on images for an enlargement

Soham by season:
---
March 13-14 2010 - Indoor Golf Croquet
Pre-season GC indoor tournament encouraging for all teams.
The indoor weekend at the Ross Peers Sports Centre in Soham provided a pre-season warm up for participating teams from the region. Ball positioning, blocking the opponents, jump shots, team tactics were skills which had to be brought into play in order to feature high up in the final placings.
On Saturday teams enjoyed the handicapped competition with players from Hunstanton, always strong opponents, Letchworth and Leighton Linslade and Bury St Edmunds in contention. With free shots strategically used to gain dominance, any of the teams could have taken the lead. As the day progressed the Bury and Letchworth teams edged ahead of the others, finishing on equal points but on net hoop count back, Andy Allen and Ian Mantle of Letchworth just beat the Bury players, Michael Percival and David Crawford, by one hoop to take the trophy.
The Hunstanton team of Pat Bailey and Timothy Race finished a creditable third. Timothy, still only 14, played with concentration and accuracy particularly when playing jump shots, even from a distance most were successful. We wish Timothy every success when he represents England against Ireland next month.
Teams on Sunday included visitors from Stony Stratford, Newport, Downham Market, Hunstanton and Bury St Edmunds. Again enthusiasm to perform, tight defending and the accuracy of placing the ball in front of the hoops on the fast carpet surface allowed Bury and Stony Stratford to dominate the afternoon's play. With other teams struggling to make hoops and stay in contention, Bury and Stony Stratford were finally matched against each other for the trophy. Stony Stratford's stubborn defending and teamwork allowed them to beat Bury by two points to win the tournament.
---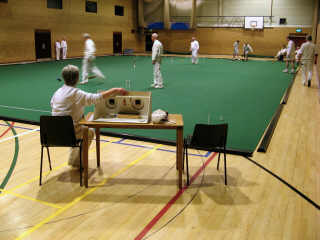 Saturday photos by John Bevington
February 13-14 2010 - Indoor Association Croquet
An interesting and exciting two days were spent rushing round in the yellow light trying to see the difference between the black and the brown balls, that is Soham Sports Centre. Eight pairs from across the region played on the Saturday, and seven on Sunday managed expertly by Colin Hemming who also played (croquet) with his wife.
Saturday 13th
Hunstanton romped home winning four out of five games, and drawing against Newport. The closest match was against Colchester 2, placed last, with a nail biting finish, Hunstanton going through rover and pegging out while Jane desperately hit her ball from corner to corner, missing the peg by a hair's breadth. Generally a hectic day with many close finishes. The trophy which was Belgian, donated by the Belgians from Belgium, was presented by Colin.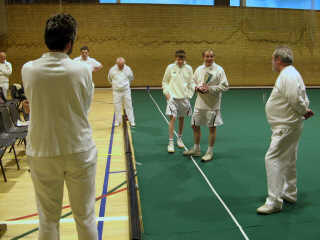 Winners Tim and Jeff Race from Hunstanton
| | | |
| --- | --- | --- |
| Results | | Game pts |
| Hunstanton | Jeff & Timothy Race | 4.5 |
| St Colbans | Jonathan Hills & Terry Mahoney | 4 |
| Newport | Mike Porter & Jim Potter | 3.5 |
| Letchworth | Keith Rhodes & Peter Ross | 3 |
| Meldreth | Chris van Essen & Alec Osborne | 2 |
| Colchester 1 | Colin & Georgeen Hemming | 1.5 |
| Wrest Park | John Bevington & David Marsh | 1 |
| Colchester 2 | Nick Steiner & Jane Collier | 0 |
Sunday 14th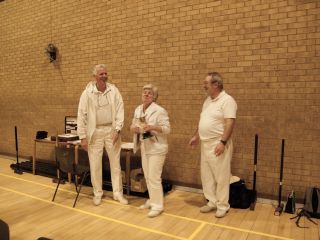 L-R: Neil Chalmers with Sunday winners
Georgeen & Colin Hemming
What a difference a day makes. Colchester 1 collected the trophy. A much closer contest with nothing decided until the last game between Colchester 2 and St. Downham which ended in a draw, both balls on peg and rover. The final placings for 1st and 2nd were on wins within time, and for 3rd and 4th on net points. It was good to see Roly playing his first game indoors, and in spite of losing he made some good breaks under the excellent guidance by Wendy. The football hooligans watching from the balcony were heard to remark to David Haslam, (himself a closet football hooligan), "Oooo! Some of them are quite young." The trophy was presented to Colin and Georgeen by Neil Chalmers.
| | | |
| --- | --- | --- |
| Results | | Game pts |
| Colchester 1 | Colin & Georgeen Hemming | 5 |
| Hunstanton | Jeff Race & Patricia Duke-Cox | 5 |
| Colchester 2 | David Haslam & Nick Steiner | 3.5 |
| St Downham | Terry Mahoney & Jonathan Toye | 3.5 |
| Ipswich | Peter Allnutt & Mike Percival | 3 |
| Norchester | Neil Chalmers & Jane Collier | 1 |
| Peterborough | Wendy Dominguez & Roly Iddison | 0 |
So, what did Colin and Georgeen get up to on Saturday night in Soham to improve their performance so greatly? Alas....We shall never know!
Nick Steiner
---
January 16-17 2010 - Indoor Association Croquet
---
December 13 2009 - Indoor Golf Croquet
---
December 12 2009 - Indoor Association Croquet
Undisputed winners were Ipswich with a clean sweep 6/6. Second position was keenly contested between Noralb and Hunstanton, both having won 4 games and drawn the game between them. Noralb with 19 net points scraped home against Hunstanton with 16. Fourth place again was closely contested between Letchworth and Downwich, Letchworth winning on who beat whom. Similarly sixth place was decided by Meldreth having beaten Colchester. All in all a closely contested tournament at all levels, but with Ipswich excelling. Good to welcome yet another up and coming high bisquer from Letchworth. Where do you find them Duncan? He did leave his shoes behind though!

| | | |
| --- | --- | --- |
| Results | | |
| Ipswich | Mike Percival (1½ ) & Peter Allnutt (5) | 6/6 |
| Noralb | Terry Mahoney (3) & Feargal Smith (3½) | 4½/6 |
| Hunstanton | Jeff Race (½) & Bryan Saddington (4½) | 4½/6 |
| Letchworth | Nick Mounfield (4) & Andy Allen (18) | 2/6 |
| Downwich | Jonathan Toye (6) & Neil Chalmers (8) | 2/6 |
| Meldreth | Robert Skeen (7) & Alec Osborne (12) | 1/6 |
| Colchester | Nick Steiner (7) & Jane Collier (10) | 1/6 |
---
November 14-15 2009 - Indoor Golf Croquet
Indoor carpet proves to be a challenge for all teams.
The East Anglian Croquet Federation's indoor golf croquet tournament took place at the Ross Peers Sports Centre in Soham. Fourteen teams from the region competed over two days on the smooth carpet. Competition was serious and fast, the carpet surface proving a challenge for experienced players as well as newcomers, the hoops unyielding even to the most skilful.
On the Saturday teams took their chances around the hoops overcoming opponents defensive play with jump shots. Newport 'B' took an early lead skilfully placing their balls and using bisques intelligently. However, their winning streak left them as they progressed through the day allowing Letchworth, Bury St Edmunds and their 'A' team to finish ahead of them. The winners, at the end, were Jeff Race and David Boxell from Hunstanton.
Sunday's competition saw the team from Bury having early successes against Newport, Norwich and Colchester. However, all teams worked hard to defend the hoops with intelligent ball placing and blocking. As games progressed Leighton Linslade and Letchworth were the two teams consistently winning hoops but at the end the Letchworth Club players proved to be more skilful than their local rivals and won the day.
---
October 17-18 2009 - Indoor Association Croquet
Saturday 17th October
The Race Family was back on song after their hiccup in February winning all six of their games. Not content with that, they confused the whole schedule by winning their first game against Burywich (John Robinette and Mike Percival) by +12 in some 25 minutes! Foolishly the manager (me) thought he would help matters along by adjusting the order of play to keep things moving. Big mistake! He spent the rest of the day trying to retrieve the confusion he had caused! Goes under the heading of 'seemed like a good idea at the time'. Never again!! Colchester 1 just managed to stay ahead of Colchester 2 in the last game of the day to take second and third places respectively. It is interesting to note that Nick Mounfield of Letchworth who played off 18 in February is now down to 4. Well done him!

| | | |
| --- | --- | --- |
| Results | | |
| Hunstanton | Jeff Race (½) & Tim Race (12) | 6/6 |
| Colchester 1 | Jonathan Hills (-1½) Nick Steiner (7) | 4/6 |
| Colchester 2 | Colin (3) & Georgeen (16) Hemming | 4/6 |
| Letchworth | Nick Mounfield (4) & Keith Rhodes (12) | 3/6 |
| Peterborough | Adrian Kirby (2) & Wendy Dominguez (9) | 3/6 |
| St Albans | Terry Mahoney (3) & Dick Barnard (18) | 1/6 |
| Burywich | Mike Percival (½) & John Robinette (7) | 0/6 |
Sunday 18th October
The winners were unresolved with Letchworth 1 and 2 both having won all their 5 games prior to the final face off due between them. Unfortunately as is so often the case on Sundays, the last game had to be sacrificed as the 6.00 p.m. deadline came into play. At least they could fight it out at home to arrive at a winner! Hunstanton 1 was third and Downwich and Colchester could only be separated by net points having each won 2 games and drawing the game between them. It was a bit of a change for Neil (wearing a Hunstanton hat in the absence of the injured Terrey Sparks) to play with a partner younger than his grandchildren, but Timothy slotted nicely into Terrey's slot telling him what to do! Special mention is due to the Chelmsford team of first-timers who expected to be shown the ropes by Cheryl Stephenson, their mentor. On arriving to pick her up for an 8.30 start they were met by a bleary-eyed son Paul sending them on their way as the household had overslept. Although losing all their games, they acquitted themselves extremely well and claimed to have enjoyed themselves!

| | | |
| --- | --- | --- |
| Results | | |
| Letchworth 1 | Duncan Hector (-1) & Peter Ross (14) | 5/6 |
| Letchworth 2 | David Tutt (0) & Ian Mantle (3½) | 5/6 |
| Hunstanton 1 | Jeff Race (½) & Bryan Saddington (6) | 3/6 |
| Downwich | Feargal Smith (3½) & Jonathan Toye (6) | 2½/6 |
| Colchester | Peter Kenward (7) & Keith Saunders (12) | 2½/6 |
| Hunstanton 2 | Neil Chalmers (7) & Timothy Race (12) | 2/6 |
| Chelmsford | David Bateson (10) & Jeff Barrington (12) | 0/6 |
Neil Chalmers